We all know that there are countless headsets out there, with different price range and specification. We spent sometime with the Oblanc U.F.O NC2-4 5.1 gaming headset for a couple of weeks, and I must confess, they sound grate. The company intends to formally introduce it at E3, so be sure to check their stand our for a hands-on review. The 5.1 Digital Dolby  Surround Sound production is really superb,  the headphone is a total contrast of its simple packaging. The NC2-4 headphone has a solid quality, build, and totally worth every dime you spend on it. In the increasingly crowded headphone market, it's difficult to find companies that actually deliver what they advertise, but the case is different here.
Packaging:
The Oblanc 5.1 NC2-4 UFO headphones comes in a simple yellow and black packaging, a small window on the front and side to give you a partial view of the headset. The box contains the user manual, Oblanc Warranty Card, and a Rubber Key Tag.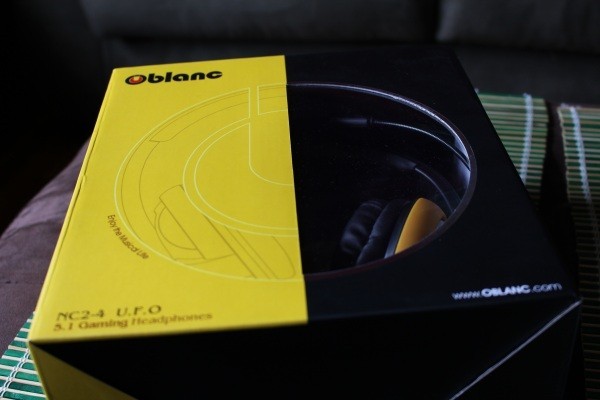 Build:
The NC2-4 has a plastic over-the-top adjustable headband, re-enforced with aluminum, making it more sturdy and incredibly light. The over-the-ear-cups that houses it's 4 individual drivers each, has a comfortable leatherette fabric for immense comfort. It also comes with a flexible boom microphone that provides immense clarity during voice calls, and come with independent controls for "Main Volume, Front, Center, Surround, and Bass level"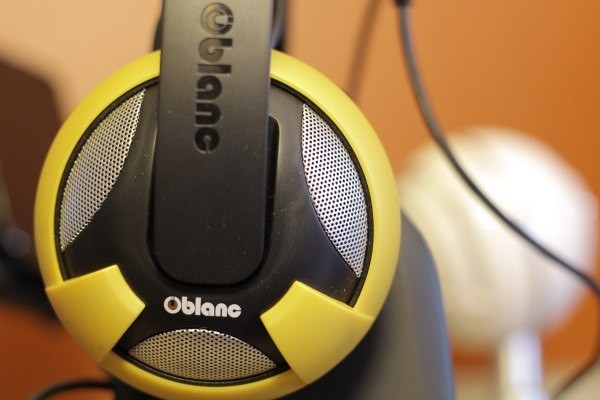 Features:
The NC2-4 UFO headphones come with a multi-speaker surround sound, with drivers that deliver a pounding 5.1 Dolby Digital breathtaking audio, a 5.1 Channel Amplifier with independent volume control, and USB Connectivity to connect to connect to your PC. Ordinarily, you may  think these features are enough, but Oblanc spikes the NC2-4 with 8 drivers (4 Neodymium on each side) with sub-woofer enhancements that deliver high quality sound with extended bass, making hard for your enemies to sneak up on you.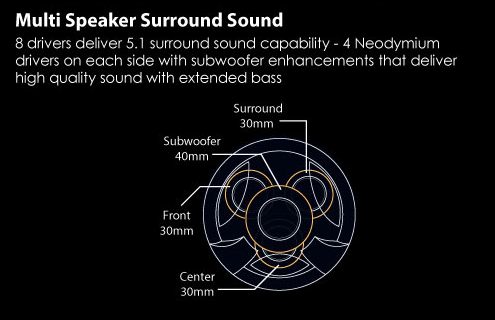 [wpspoiler name="Specification" ]
Multi Speaker Surround Sound Design. 8 Drivers Deliver 5.1 Surround Sound. 4 Neodymium Drivers on Each Earcup

30mm Vibration Drivers for Subwoofer
30mm Neodymium Drivers for Front
30mm Neodymium Drivers for Surround
30mm Neodymium Drivers for Center

Subwoofer with Extended Bass Enhancement Built-in
Offers Realistic Directional Audio Perception and Extended Quality Sound
Independent Volume Control for Each Channel
Seamlessly Connect to Desktop or Laptop with USB Connectivity
Extreme Comfort and Fit Leatherette Ear Cups
Control Switches:

Main Volume Control Knob
Microphone Mute Switch
Front Speaker Volume Control
Surround Sound Volume Control
Subwoofer Volume Control
Center Speaker Volume Control

LED Indicators:

Blue: USB Connected
Flashing Blue: Signal Received
Red: Microphone Mute
Green: Microphone On

Acoustic Design: Dynamic, Closed-back
Frequency Response (Front, Surround, Center): 20 – 20KHz
Frequency Response (Subwoofer): 20-180Hz
Total Harmonic Distortion (THD): <1% @1KHZ / 0.775V
Maximum Input / Output Power: 200mW / 30mW
Microphone Size: 6.0 x 2.7mm
Microphone Sensitivity: -58dB +/- 2dB (0dB=1V/pa)
Connector: USB
Earpad: Leatherette
Tangle-free Cord: 84″
[/wpspoiler]
Summary:
We liked that the NC2-4's build, quality, and sound production are on point, allowing you to pinpoint where the shots are being fired from in FPS games. You actually have to hear them in person, to understand why we are giving them a high rating. We also liked the fact that, you could get high quality sound  even with PC's that don't support surround sound. Be it game play, listing to music or video editing, the NC2-4 is equal to the task.  I would recomend them to anyone who wants exceptional qulity sound, and looking for a headphone that is affordable irrespective of all the features packed in it. Be sure to check out the Oblanc's official site for more of their headphone lines. They are one of the best wired headsets you can get for $146.93.
#Oblanc NC2-4 #UFO vine.co/v/b3L7erpYmJ9

— Michael John- A (@mj00768) June 5, 2013
Source: Oblanc