Lenovo is one company that doesn't lack foresight when it comes to innovating new products like the "Yoga 2 Pro." Keeping its users up to date with all the processing and colorful display goodness, means they will have to stay relevant in the ever-changing notebook market. To accompany the success of the Yoga 13, the company introduced the Lenovo Yoga 2 Pro. The Yoga 2 Pro comes with some outstanding features that clearly shows that the company is not afraid of stepping up its game with every new release. Apart from being thinner and lighter than the previous version, it comes with a 3200 x 1800-pixel display and a fourth-generation Intel Core processors (all the way up to i7)
Design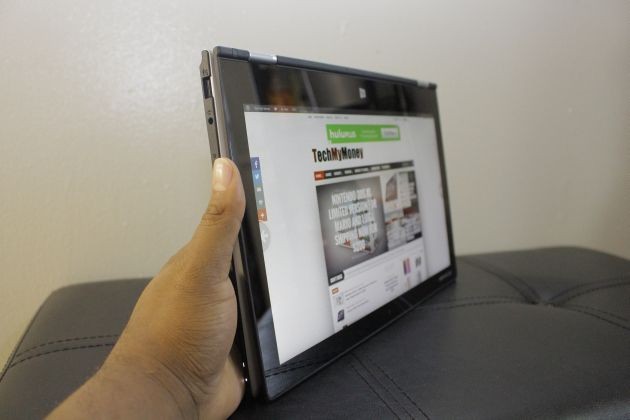 The Yoga Pro 2 looks like its predecessor the Ideapad Yoga, and also comes with a few cosmetic changes as regards to its weight and internals. Its matte covering has a soft-touch exterior giving it a fingerprint-resistant finish and has rubber rim to the edges of the screen, that gives it extra cushion while using the Tent Mode. Another noticeable addition to the design of the Yoga 2 Pro is its weight, at 12.99 x 8.66 x 0.61 inches and 3.06 lbs, the Yoga 2 Pro is thinner and lighter than the original IdeaPad Yoga (13.1 x 8.9 x 0.67 inches, 3.4 lbs.) As a religious Lenovo product reviewer, the Yoga Pro is so light, it makes the Ideapad Yoga feel old school. The only uncomfortable change we found so far is the position of the power button which is now on the right side of the notebook, making it difficult to locate for first time users. As with the original Yoga, the Yoga pro 2 comes with the same industrial-strength hinges that allows you to make use of the ultrabook in four different positions. The Yoga Pro 2 comes with rectangular charging port as seen on all Lenovo products. There is a blue USB 3.0 connection, along with a micro-HDMI port and a full-sized SD card reader on the left side, and a USB 2.0 port, a headphone jack, screen orientation button, volume rocker and power button on the right side.
Modes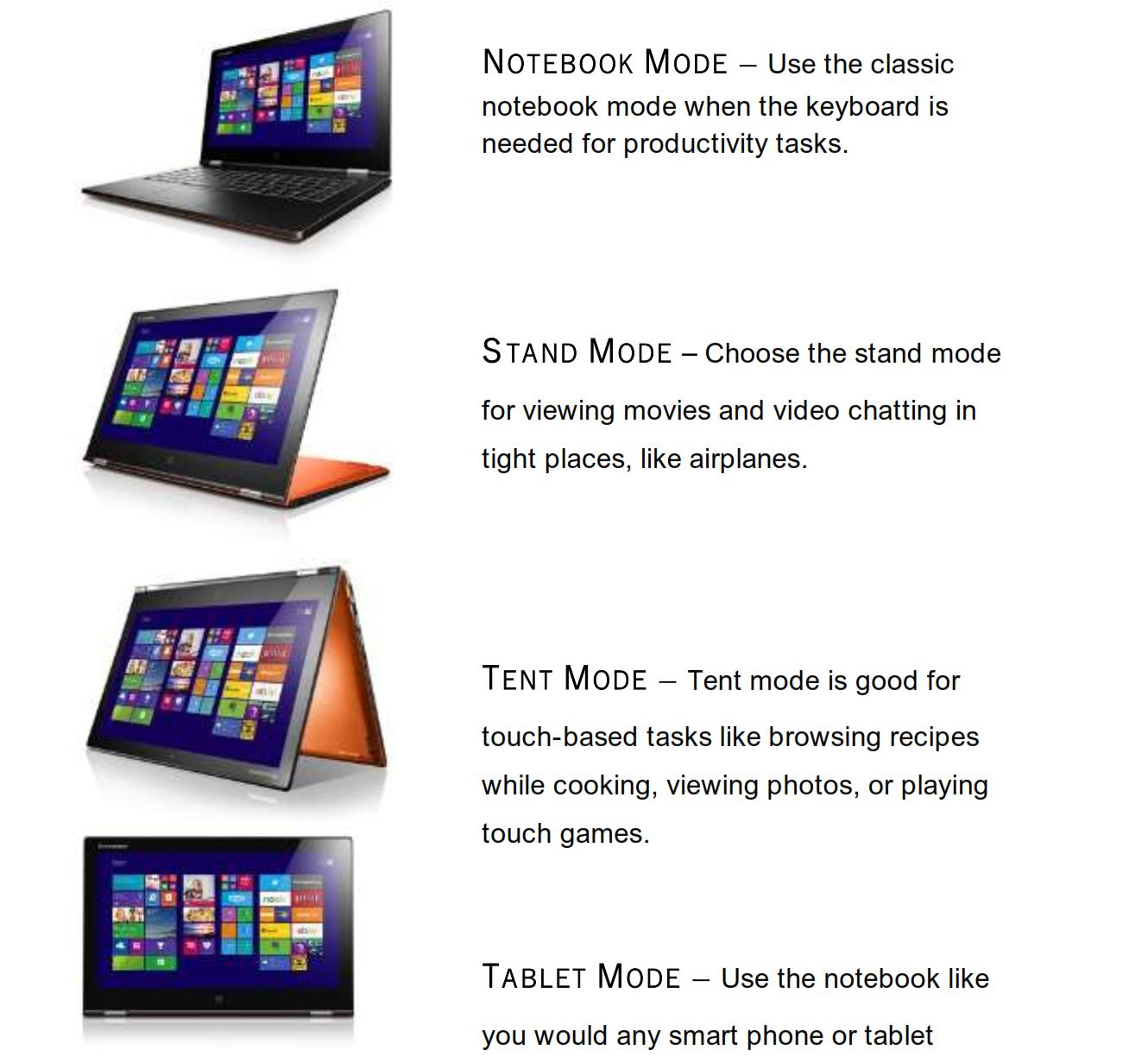 Keyboard and Trackpad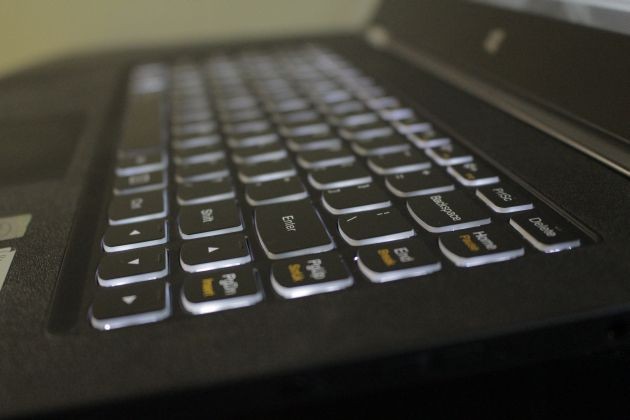 The keyboard remains relatively unchanged from the original Yoga, except for the new backlighting feature I find very useful due to my nocturnal writing habit. It comes with rubberized palm rest gives you a comfortable typing experience.
The trackpad is comfortable to navigate around, and has small, gray line to divide the left and right mouse buttons. It also comes with multiple swiping options (swiping for the Charms Bar, toggling through apps, two-finger scrolling and pinch-to-zoom) to help you navigate through your Windows 8.1 and other cool apps.
Display and Sound
The Yoga 2 Pro has one of the sharpest display in the industry, it comes with a wide viewing angle, and rich colors thanks to its IPS display. Its  13.3-inch 3200 x 1800-pixel IPS display is one of the many features you will appreciate when you get your hands on this bad boy, as it trumps that on the 13-inch MacBook Pro with Retina Display (2560 x 1600 pixels). Watching the preloaded video "HONEY BEES 96fps IN 4K (ULTRA HD)" leaves you in awe of its share beauty.
The Yoga 2 Pro comes with Dolby Home Theater-certified speakers, giving you the rich quality sound you deserve. It has two speakers, located on the bottom side of the laptop under the palm rest, which produces a decent sound quality and remained distortion free.
Performance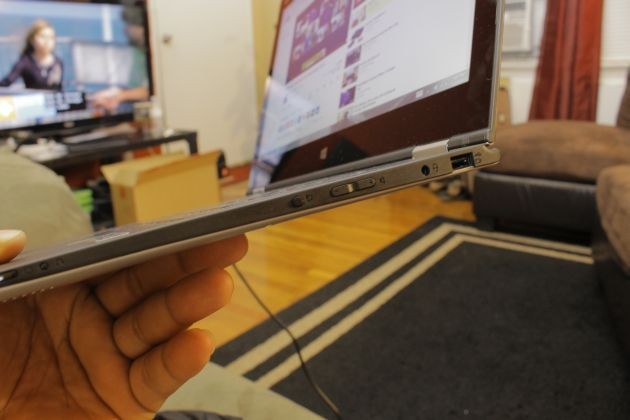 The Yoga 2 Pro's hardware handles most task you through its way with ease, even long hours of usage and intensive video editing with Adobe Premiere Pro CC. Running multiple apps and video calls was no problem at all, also the Yoga 2 Pro has an impressive boot time. It comes with multitude of apps and software which are really useful, unlike bloatwares installed on most devices you never get to use. Each app on the Yoga 2 Pro has its unique features and funtions to make your Windows 8.1 navigation experience stress free. You also have a couple of voice control features and Dragon Assistant for controlling your Yoga 2 using your voice. Lenovo also has an app that the right app for you in any mode you decide to use your Yoga 2 pro. There other apps and functions you will definitely want to give try (VeriFace, Motion Control, Yoga Camera Man etc)
Battery Life
The battery life on the Yoga 2 Pro will vary based on many factors including system settings and usage. Overall, the battery life on this ultrabook is impressive, lasting around six hours of straight-use giving you ample time to next recharge.
Configuration
We recived the $999 confirguration to review, bear in mind that you can also get the $929 version that has the 4th Generation 1.7-GHz Core i3-4010u processor. For $1,399, you can get an upgraded configuration that packs a 4th Generation 1.6-GHz Core i5-4200U CPU with 8GB RAM and 256GB Solid State Drive.
Conclusion
The Yoga 2 Pro undeniably offers a very good laptop / tablet combination, addresses many of our complaints we had with the original Yoga. The Yoga 2 Pro is an affordable ultrabook, and probably one of the best we've seen this year when it comes to versatility. There're few things we didn't like about the Yoga 2 Pro, the coolest part is getting compensated with other features you'd never notice its flaws. For almost $1000, you get high-quality audio, higher-resolution IPS display, faster 4th Generation Haswell processor and backlit keyboard, in a thinner and lighter design, what more can one ask for?
Specifications
Description
Ideapad Yoga 2 Pro
Processor

4th Gen Intel® Core™ i7-4500U (1.80GHz 1600MHz 4MB)
4th Gen Intel® Core™ i5-4200U (1.60GHz 1600MHz 3MB)
4th Gen Intel® Core™ i3-4010U (1.70GHz 1600MHz 3MB)

Operating System

Windows 8.1 64

Memory

Up to 8GB DDR3L 1600 MHz, on-board two-channel (4GB/8GB)

Display/Resolution

13.3″ high-resolution QHD+ (3200 x 1800)
IPS wide-view display with 10-point multitouch technology

Dimensions (W X D X H)

12.99″ x 8.66″ x 0.61″

Weight

3.06 lbs

Camera

720p HD webcam

Storage

128GB / 256GB / 512GB SSD

Integrated Communications

Intel® Wireless-N 7260 802.11 b/g/n, Bluetooth® 4.0

Connectors

1 x USB 3.0, 1 x USB 2.0, Audio Combo Jack (headphone and microphone), micro HDMI-out, (headphone and microphone), micro HDMI-out,

Sound

Integrated stereo speakers with Dolby®
Home Theater®

Graphics

Integrated Intel® HD graphics 4400

Battery

Up to 9 hrs Windows 8 Idle @ 150 nits
Up to 6 hrs FHD playback @ 150 nits
Source: Lenovo