If you ask around, you'd know that the OnePlus One is one of the most wanted smartphone in the tech community even though it's hard to come by. As an Android fan, I've been through a whole lot of flagship phones, low-end ones just for the fun of it. Hardly do you come by a phone with killer specs that is cheap, well built and runs CyanogenMod out of the box. Smartphone companies find a reason to justify their high-priced phones because of its specs and premuim quality, but OnePlus One came into market and wowed Android fans by proving that theory wrong. The One comes with high-end features that can compete or beat top-tier phones without a contract. The price of the OnePlus One is a fraction of the cost of what you'd pay for one of today's top spec phones. Anything that saves me money is a plus 5 for me. I managed to get my hands on the 64GB SandStone OnePlus One device few weeks back, and I've had the chance to use this phone as my daily driver, except for some few bugs here and there I totally have nothing but praises for this phone.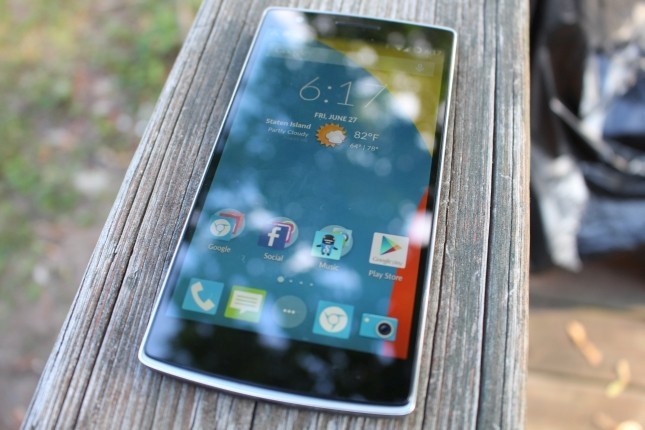 What's Inside
The OnePlus One packs a Snapdragon 801 processor at 2.5GHz, 3GB of RAM, 16/64GB of storage, a 13MP Sony camera sensor, 5.5-inch IPS display at 1080 x 1920, 3100 mAh battery, stereo speakers, 802.11ac Wifi, Bluetooth 4.0, seven-band LTE radio and more, all crammed into a single phone for $299 or $349, depending on your storage capacity choice.
The OnePlus One is compatible with both AT&T and T-Mobile, it comes with GSM/UMTS/LTE radios. There's a 13-megapixel Sony Exmor camera on the back and a 5-megapixel camera on the front. The main camera does 4K recording, and 720p recording for the front camera. You can check out some of the pictures taken with the phone's camera in the gallery below.
[doptg id="5″]
Hardware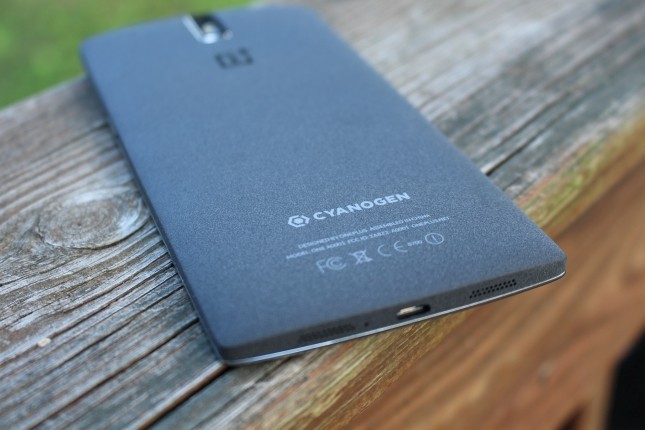 When you first hold the OnePlus One, you'd never guess in your wildest dream the price of the phone because of its premium build. Even though you don't get an expandable storage, getting the 64 GB version of the phone over the 16 GB base model is still affordable, having you paying only $50 extra.
The call quality on the production model sounded loud and clear at the other end and no dropped calls was experienced on both ends. The dual speaker setup on the bottom are actually dual speakers, unlike some other devices that have dual speaker grills, yet posses a mono speaker. The dual bottom-facing JBL speakers on the OnePlus One is loud and provides rich audio when listening to music, or gaming. On the software side, Cyanogen provides the One with AudioFX capabilities that allows you enjoy some extra base with your headphones.
Powering the One is the 3,100 mAh battery that gives you some good usage time even for heavy users. On the day of this review, I started my day by connecting my LG Bluetooth ear bud all day, music played for approximately 3 workout hours, watched couple of ViceNew YouTube Channel videos, play a couple of rounds of beach buggy and the Walking Dead Season 2 game, took all these pictures in this article and more that I didn't upload, toying with the phone to see more features, using tapatalk app for the OnePlus Forum all day, and giving my mechanic and his son a full walk-through of the phone and I still have 55% battery after 15 hours on battery.
SOFTWARE
The One is Running CyanogenMod 11S, which is built upon Android 4.4 KitKat, CyanogenMod 11S adds more personalization and security options built into the phone. CyanogenMod 11S provides the One with full customization and ability to fully change the skin of your device with various on-board and downloadable themes. CyanogenMod 11S on the One gives you little or no need to root the device, just to modify its look and feel. In essence, applying the theme pack of your choice gives you a totally new experience on the phone. Out of the box, your stock Android apps needed for a full Google experience is preinstalled, with just a few CM 11S apps. CyanogenMod 11S comes with a lot of intresting features, the off-screen gestures lets you draw a 'V' on the screen and the camera LED will turn on like a torch. Double tapping the screen wakes up the device, drawing a circle activates the camera, while a two-fingered swipe will play or pause your music. Least I forget, the OnePlus One comes with its own screen cast app , letting you record your phone screen with just a push of a button.
Display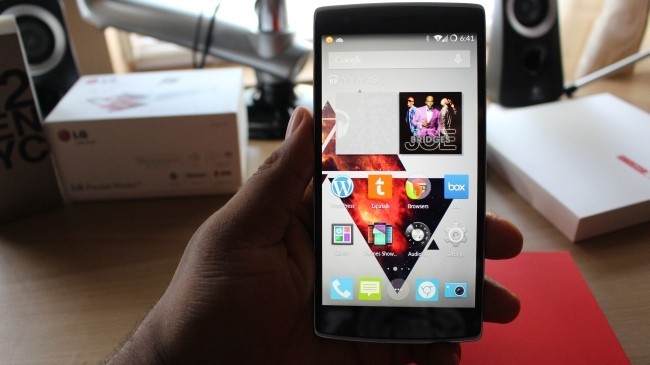 The OnePlus One's display is impressive in most regards, the 5.5-inch display has excellent color rendering, and at 404 PPI pixel density. OnePlus's ability to include such a good display on a smartphone at its price  range is still astonishing and hard to apprehend. The phone is great for watching movies and viewing crisp HDR images taken with the camera, and hard to find any flaws to it at all. The Phones color reproduction is impressive, providing you superb clarity and good viewing angles.
Bottom Line
For $299 for the 16GB or $350 for the 64GB OnePlus One is a nice smartphone to buy at that price for its top-tier specs. OnePlus One has one of fastest processors in the smartphone world giver the user an impressive performance. The quality of the phone compared to its price, makes you wonder how they company plans to t make money at all. The company behind OnePlus One proved their point by educating smartphone buyers,  showing them that a phone doesn't have to be high priced to have good specs. The camera on this phone is a plus, good performance from the battery, and both the processor and RAM provides you with an excellent experience. The downside of the One, is just the phones unavailability at the moment. Currently, the only way to get this phone is by the company's invite system, which is sent to contest winners at intervals. OnePlus has promised to make the international version available in the coming months as they try restructure a couple of things internally. With that said, the company has certainly made its mark in the mobile phone market, and I hope other phone manufactures will learn from them, and stop outrageously pricing their phones.
[doptg id="4″] [taq_review]