Design and form factor When it comes to gaming headsets that multitask, Plantronics is one company you can count on to deliver such hardware. Gaming headsets usually serve only one function which is gaming, but the new RIG Surround 7.1 headset was built for your gaming and mobile pleasure intertwined or separately. The Plantronics RIG Surround 7.1 was built to supersede the fan-favorite GameCom 780 headset and it's unbelievably affordable. I took the headset for a spin for the past two weeks and I must confess, it gets the job done. Don't get me wrong, there are better wireless options out there but the RIG Surround 7.1's ability to keep you connected to your PC and mobile devices outweighs the cons.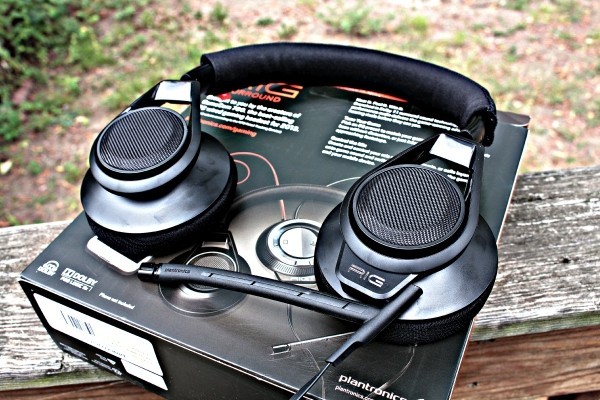 What's in the Box
RIG Surround Headset
Mixer control unit
3.5 mm Boom microphone cable
Features
USB gaming headset with 40 mm drivers and bass tube technology delivers performance audio.
Download the Dolby 7.1 surround sound driver for your PC and use the Dolby button on the amp to turn it on or off.
USB amp connects to your game and gives you fingertip controls to mix levels of game and chat audio plus integration of music or calls from your mobile device.
Three EQ settings let you choose between Pure for improved voice clarity, Intensify for bass and mid-range boost, and Seismic for more bass without any rumbling or distortion.
Forget-it's-on comfort lets you play for hours, watch movies, or relax with music wearing lightweight, pillow-soft earcups and cushioned headband.
Headset also connects to your mobile devices with a single 3.5mm connection so you can play anywhere.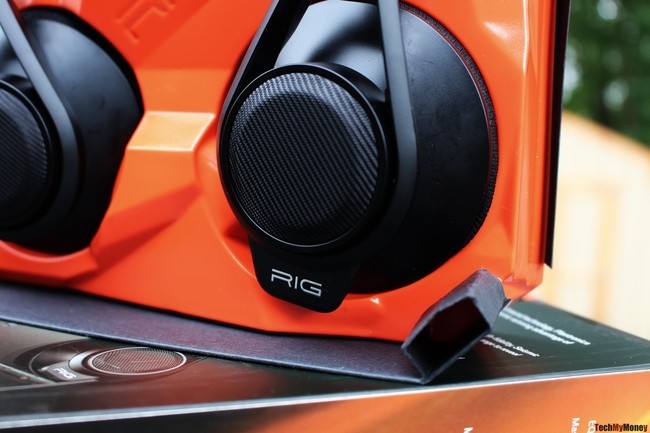 Design / Comfort
You could mistake the RIG Surround 7.1  for the earlier RIG model due to their similar build, but don't be deceived as the RIG Surround comes with some much-needed improvement. The headset is not bulky looking, giving it the perfect disguise to pass as your regular headphone for your mobile device. It comes with a deceptively comfortable earcups with a textured fabric covering the back and padded around the headband. The earcup's 40mm diameter speakers come with an orange lining which gives the headset a cool look, the foam on the earcups brings its comfort to another level while gaming for hours.. The earcups pivots 90 degrees for better storage or for comfort while resting on your shoulders. You won't find any controls on the headset as that's handled by the mixer controls. It comes with a single port for connecting your boom mic or you could grab an in-line microphone and smartphone controls cable to double the headset as your daily driver when using your mobile devices.
Control Mixer
The RIG's mixer is a crucial part of the RIG Surround headset, the puck-shaped mixer allows for quick mixing of audio channels between your smartphone and gaming system. There are two cables that are affixed out of the back of the mixer for connecting to your devices; one USB plug end for your PC and a 3.5mm audio plug for connecting your smartphone or tablet. While gaming, the headset's mixer allows you to listen to your personal music from your mobile device. You can also adjust the volume of which media entertainment you want prominent, pressing the call button on the mixer allows you to take incoming calls while you still hear your game simultaneously.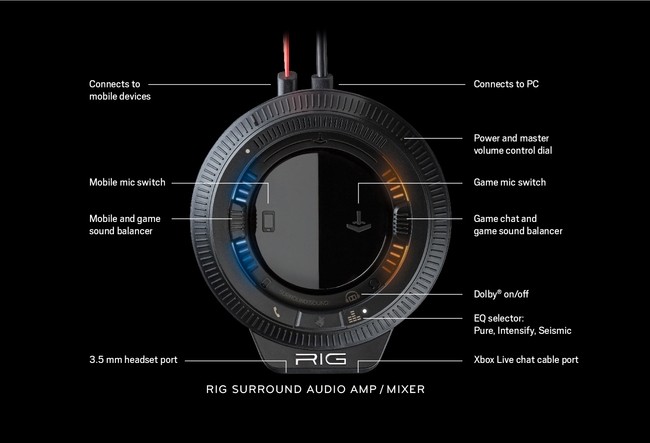 This feature alone is well appreciated and gives your moneys worth, don't worry, the person calling won't be able to hear your gaming. There's a flipper in the middle of the mixer to switch between your gaming system and your mobile device. On both sides of the mixer, you'll find a volume slider that glows, you have to note that the volume sliders alternate for volume increment. The master volume is controlled by a ring around the puck-shaped mixer,  there's an LED indicator to let you know when Dolby option is on/off. The three button on the mixer are mobile control buttons, master mute, Dolby on/off and EQ selector buttons. The equalizer selector lets you select between three preset audio settings: pure, intensify and seismic.
Audio Quality
When it comes to good audio quality, the Plantronics brand can provide you with all the aural stimulation you need. As for the RIG Surround 7.1 , it provides the much needed simulated surround effect just as the name implies. Gaming sounds really nice and clear, chatting with noise-canceling boom mic and inline mic cable while gaming, video editing or incoming calls, was audible and crisp. Where some headphones with surround sound are weaker in directional audio, especially in the back, the Rig Surround pulled it off without any issue. The headphone produced excellent bass, with solid mids and highs. Only fault I had with this head was the inability to retract the boom mic or swivel up out of position when  not needed.
The Verdict
Priced at $100, the Plantronics RIG 7.1 Surround is really worth the price when you consider the extra features it packs. The setup process was very easy, the RIG 7.1 surround will work as a decent stereo headset and microphone when plugged into a DualShock 4 on the PS4, and work as a pair of headphones on the Xbox One. When the Dolby mode is turned on, the RIG 7.1 mixer, surround sound really comes through, giving you that full Dolby experience when gaming. Overall, you can expect a sterling audio experience from the RIG 7.1 Surround even if you aren't seasoned gamer.With clean highs and decent mid-range sounds that accompany adequate, undistorted bass, the Plantronics RIG 7.1 Surround will offer you an amazing audio experience.
Source: Plantronics