Not too many over-ear headphones are comfortable, and allow you to have them on for long periods without causing you any discomfort. It's a known fact that Plantronics makes headsets for Blackberries and call centers, but the company's new stereo BackBeat Pro headphone will have its competitors going back to their drawing board. Imagine cramming high quality headset technology in the BackBeat Pro that's mind-blowing, wait till you get your hands on one , you'd testify too. Did I hear you ask about the headphones features, this thing comes with bluetooth and NFC pairing, wireless audio streaming for 24-hours (estimated) battery life, unmatched active noise-cancelling capabilities, Bluetooth wireless range that exceeds 300 feet (with line of sight) and more features I can't fit in this paragraph. Not only does the headphones come with a high comfort level and sound quality, the pricing for the BackBeat pro at $250, would have you make better decisions when next you think of buying an over-price or over-hyped headphone.
Design
The design of the BackBeat Pro is fashionable and yet pulls off a professional look unlike most color rioted headphones. The headphone is mostly plastic and comes with a leather-wrapped metallic headband and a pair of circular plush earcups  that are marked with a large L or R to indicate the side. On both sides of the earcups, there are metal mesh grills that have LED indicator light for your battery meter and ANC mode when turned on. Both earcups come with buttons, ridged control ring, and functions packed on them, without constituting any nuisance to its appearance.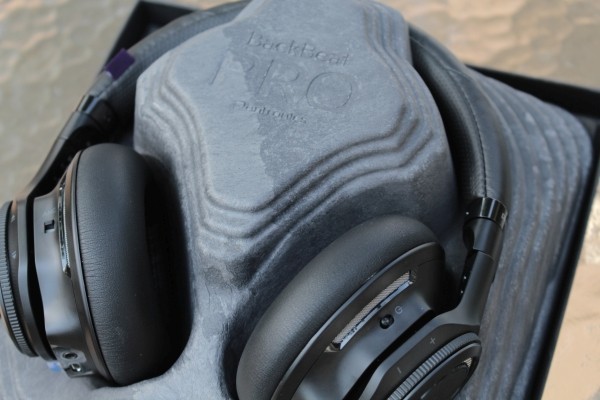 The left cup has a switch that enables the active noise cancellation ANC, a visible Play/Pause button, a jog dial control ring for skipping your tracks back and forth, a micro USB port for charging and a 3.5mm aux port. On the right cup, the headphone has a volume control ring that adds additional volume boost separate from that of the connected device, there's also the Call Answer/End button. The right earcups also features the power switch, and a small button that turns your "OpenMic" feature, which turns on your external microphone on so you can hear your surroundings. This "OpenMic" is so cool, I had the BackBeat Pro turned on with this feature and I was amazed with the crisp, clear sounds it picks up and relays to the earcups, (eavesdropping on a conversation on my train rides was easy as ABC).
Connections and Features
The BackBeat Pro can simultaneously maintain connections with two bluetooth devices (2H2S), you also get up to 330ft/100m range using a Class 1 Bluetooth device. It comes with a Bluetooth v4.0 + EDR and a NFC tap-to-pair technology for Android phones that support it. As if these features weren't enough, Plantronics decided to wow you more by adding built-in sensors that automatically pause or play tracks when you take the headphones off or put them back on. The sensors put to the headphones to sleep when needed to conserve battery life, on that note, the BackBeat Pro can last a full 24 hours of continuous music playback with active noise cancellation enabled and 60 hours by disabling the noise-canceling feature. This is no promotion gimmick as I personally achieved more than 24 hours since I unboxed the headphone and I'm yet to charge it. You get up to 21 days of Standby battery life and up to 180 days on its DeepSleep mode.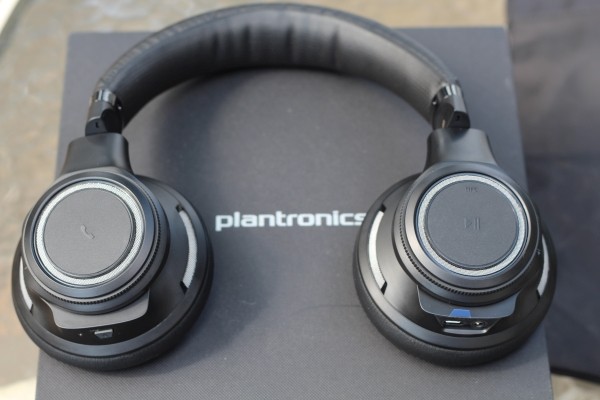 The BackBeat Pro folds flat to rest on your collar-bone when not in use or for storage in its sturdy ballistic nylon travel sleeve. The headphone also comes with 3.5mm cable which features an in-line microphone and three-button remote to replace the on-cup controls and microphone, and it doesn't require power to use it. You also get a micro USB cable for charging your BackBeat Pro when you run out of juice.
Performance and Noise Cancellation
The audio quality on the BackBeat Pro is splendid and handles your bass tracks with extra oomph and very clear Mids and precise Highs. The wired method of listening to music is almost as good as the bluetooth mode. The wired mode also allows you to use the headphone when you  run out of battery. I prefer the power off when using the wired mode but this leaves all the controls on the earcups non-functional You get an uninterrupted music playing experience with its noise-canceling technology that eliminates most consistent ambient noises. The active noise cancellation feature on the BackBeat Pro uses microphones to measure outside noise, and generates an inverse wave that cancels it out while you listen to music. The ANC does a great job canceling out outside noises when used in noisy situations like the NYC subways. The Plantronics OpenMic ambient noise amplifier puts noise canceling on hold to help you hear your surroundings, works well in real life situations too.
The Verdict
The Plantronics BackBeat Pro is an excellent wireless over-ear pair headphone that has enough feature to compete with any existing headphones in the market. The price at $250 is justifiable when compared with other over-priced headphones with fewer features. They are comfortable to wear for long hours, thanks to its noise canceling features, and the stellar OpenMic ambient noise amplifier that gives you less reason to take them off. Only thing I didn't like about the BackBeat Pro was its  inability to collapse, this would have been convenient for travel.
The BackBeat Pro is available now in the US and October for the rest of the world. It's priced at $250 in the US, £250 in the UK, AU$349 in Australia and €250 in the rest of Europe.
Buy Now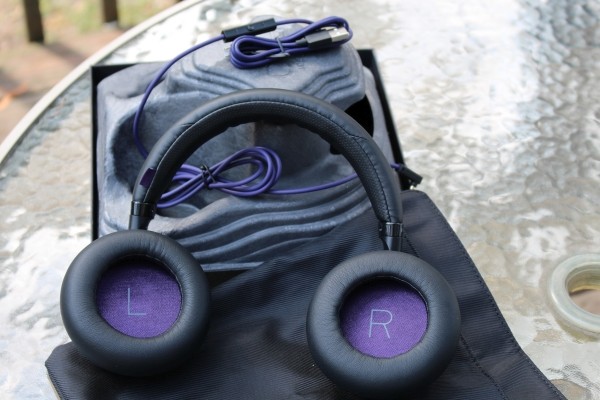 PROS
It's comfortable, sounds good for a Bluetooth model, has well-designed controls, and its battery life appears to be excellent. Can function wired, without power.
CONS
Only app it has, relays only your battery and Bluetooth connection status. 
BOTTOM LINE
The Plantronics BackBeat PRO Bluetooth over-ear headphones sound very good, and it's affordable, would love the company to get a better app that gives the headphone more functions.
SPEC DATA:
Plantronics BackBeat PRO
Type: Circumaural (over-ear)
Connection: Bluetooth
Boom Mic: No
Active Noise Cancellation: Yes
Wireless: Yes
Phone Controls: Yes
Removable Cable: Yes
Surround Sound: No