A-Audio only launched last year with its luxury line of headphones, but the company's packing enough heat to get competitors worried. You can call them the new kids on the block, but the Miami based startup have made some really good sounding headphones since their inception. This whole introduction brings us to the company's latest headphone, the 'A-Audio Legacy' over-ear headphones that retails for $299. If you want to know what level of cool the A-Audio Legacy headphones are on, the guys at CE Week 2014 taught they were cool enough to give it a "Best in Show" Award. From its packaging, finely crafted ear cups and a premium diamond quilted leather headband, the A-Audio Legacy headphones is a beauty to behold.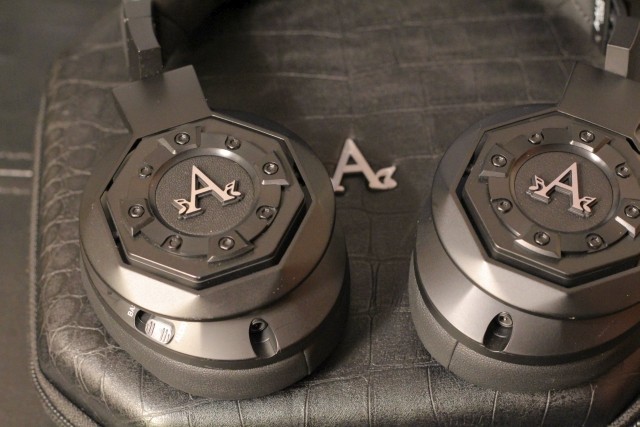 What's in the box
The A-Audio Legacy headphone's box/packaging is a plus for the company, it gives you a prefect first impression of what to expect on the inside. You open the box by pulling on ribbon attached to the side flap, held in place by magnets! You get two cables: one with a microphone and control buttons, the other, a plain cable. I hope other companies that somehow think it's acceptable to pack in just one cable would learn a thing or two from them. The cables have 3.5mm gold plated connectors, you get an extra 1/4 in. (6.3 mm) adapter, a pair of AAA batteries needed to run the headphone's two out of three listening modes. There's a "luxury travel case" which is constructed out of thick plastic, and decorated with a faux-leather finish, with the company's letter A logo on it. There's also all Velcro accessories bag, polishing cloth and your warranty card inside the box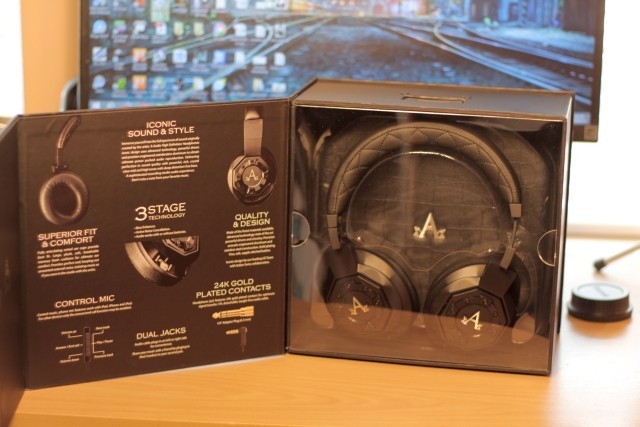 Design
The design and build quality of the A-Audio legacy headphone is outstanding, holding one in your hands might have you thinking it's an $800 headphone. The Legacy headphone comes in two colors, Liquid Chrome and Matte Phantom Black – they come fitted with a plush leather memory foam cushions for comfort, perfect seal and sound. The headphones are quite heavy, due to its metal frame, which gives you a comfortable fit when worn during a long music-playing session. The swivel headcups allow for proper storage when the headphone's not in use, and it's also collapsible. The three listening mode controls are accessible on the right ear cup, while the left ear cup's magnetic cover opens to fit two small AAA batteries that power the device's ANC and Bass Enhancer modes.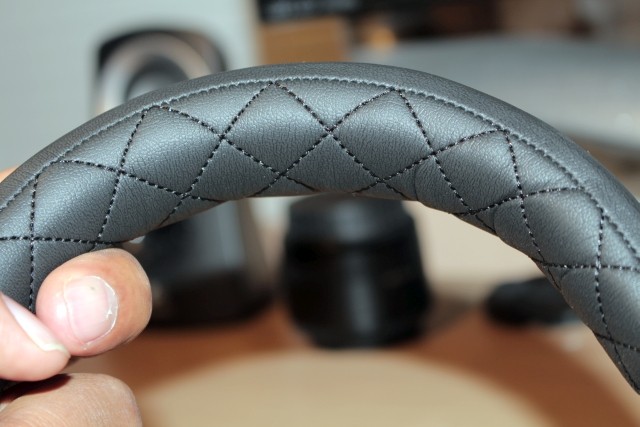 Connections and Features
If you're a cord cutter, this review isn't for you, you should probably check out the company's Bluetooth headphone version. The A-Audio legacy headphone comes with dual jacks that allow you to connect your cable on either sides. The dual jacks also serves as a port to share your music with a friend by plugging in their headphone to the second jack. As for the internal specs, the headphone comes with a powerful 40mm drivers, circuitry and precision acoustic engineered anti vibration aluminum. The headphone has a 3 Stage Technology that allows you to listen to your music in the Audio, ANC or Bass mode. The ANC and Bass Enhancer modes are my favorite go to modes, they're powered by the two AAA batteries included in the box. See the full list of features below.

3-Stage Technology to select Bass Enhancer, Active Noise Cancellation or Audio mode·
Available in liquid chrome with black accents or matte phantom black·
Complete with chrome-plating, steel construction with zinc hinges·
Closed circumaural ear cups with memory foam padding for comfort and isolated sound·
Fully articulating and collapsible ear cups for easy storage·
Dual jacks for sharing music with friends·
Comes with a detachable phone cord with remote and mic for connecting to your mobile device, plus one audio only cable and gold-plated adaptor·
Comes with luxe travel case warranty card and polishing cloth·
Verdict
The A-Audio Legacy Elite HD Headphones are excellent, nice and comfortable, these are headphones you'd put in extra effort to take care off if you spent that kind of money to buy one. I'd like to rank it as a studio-quality headphone, because of its accurate sounding high and mids. The ANC mode is self-explanatory, and it does a good job at drowning out unwanted surrounding noise. From the packaging, carry case, to the actual design of the A-Audio Legacy, I'd say it's worth every cent you decide to spend on it. The only thing we didn't like was the AAA batteries needed for the ANC and Bass Enhancer modes. The company gained a plus from me for adding the Audio mode, if you run out of juice, you'd still get quality sound experience when compared to most headphones at its price range.
The A-Audio Legacy has an urban feel, premium look and is a worthy companion for travel, work, play, and much more. If you're planing to buy one, they'll cost $299 from Amazon.com or A-Audio's website.
Specifications
Driver diameter: 40 mm

Driver material: Mylar

Driver magnet: Neodymium

Frequency Response: 20Hz to 20KHz

Sensitivity Audio Position: 102dB@1KHz+/-3dB

Sensitivity ANC Position: 113dB@1KHz+/-3dB

Sensitivity Bass Position: 115dB@1KHz+/-3dB

Impedance: 32 Ohm@1KHz

Weight: 0.7 Lb

Cable Length: 4 ft

Plug type: (1/8 in) 3.5 mm gold plated
The Good: We loved the A-Audio Legacy headphone's build quality and durability. The fact it works without batteries, comes with a luxury travel case, beautifully crafted, excellent warranty and works well, gave it more points on my review ratings
The Bad: It doesn't have rechargeable batteries, leaving you to mercy of your AAA batteries, they last for about 2 weeks of heavy use. The microphone picks up background noise easily, I hope the company adds these features to their upcoming headphones
Source: A-Audio Legacy Headphone