Swiss Army Introduces A Magnificent Timepiece
Victorinox, a knife manufacturer is celebrating their 130th anniversary as a Swiss Army supplier with the release of I.N.O.X. a new tour de force from the pocket knife manufacturer. I.N.O.X. is a timepiece, but not just any timepiece, this a very strong & genuine watch that is built to withstand the test of time. Victorinox has taken these beautifully designed pieces through the fire, with several strength & stress tests (130 to be exact) and have even armored them with a tough, removable bumper. I.N.O.X. is another statement of quality for the Swiss Army and a compliment to Victorinox's legacy. Victorinox was founded in 1884, based in the town of Ibach, in the Canton of Schwyz, Switzerland. And they have produced their first timepiece five years later in the year 1889. Its name is French (Inox), which translates to stainless steel. This solid stainless steel invention is even as durable as the legendary Swiss Army pocket knives.
I.N.O.X. watches are thrown in many rigorous tests. For example they can withstand the strength of being driven over by a mammoth of a 64-ton tank, lasting for a few hours in a washing machine & a sandstorm. Even withstanding miraculous obstacles such as, intense temperatures (from -51° C to +71° C), changes in velocity (12G of acceleration and deceleration) and even subjection to various forms of corrosion (by the way of gasoline, solvents, oils, cleaning products & insecticides).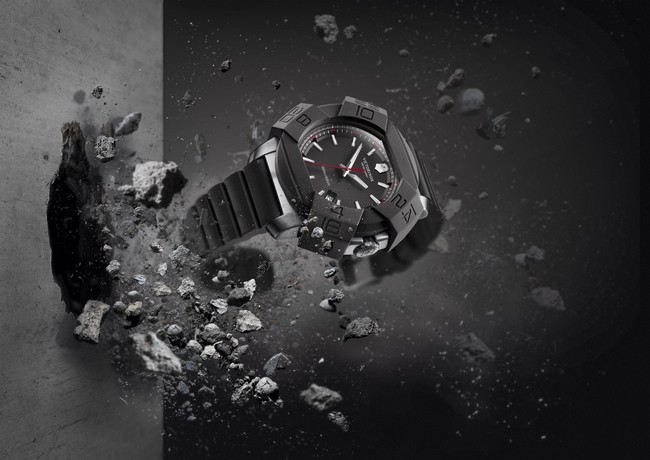 And don't forget about the case it's encased in. This case exemplifies might, it has been branded and machined in metal, creating a protective casing of supreme strength. It can withstand all bizarre vibrations, shocks and temperature changes, and even lasting underwater to a depth of up to 200 meters.
At the end of the day, there is no contest on how durable these watches are, but on the other side of the discussion, they are also look magnificent. Starting with those reinforced hands, the raised bezel, reinforced notches & even the shield logo at the top center of the timepiece, are all unique. Victorinox has made a statement with the I.N.O.X. brand. Proving that versatility, durability and a charming appearance, can remain a true inheritor of the Swiss Army name, and a true "companion for life."
This post is sponsored by Victorinox Swiss Army Watch. Go and pick up one of these elegant timepieces at Victorinox Watches and view their short film too!
I partnered with the brand to write this article but every word is mine