The Urban Armor Gear Apple iPhone 5S Case Review (Maverick)
This is the Urban Armor Gear phone Case Review, featuring the iPhone 5S (Gold).
Urban Armor Gear (UAG) has started to build a decent reputation of itself this year, coming out of Southern California. And I must admit they are doing a very good job at providing good quality products too. UAG is a respected mobile device case maker. Their cases are military-inspired, armored designed and have ruggedized protection to keep your mobile devices well protected from the everyday uses that would greatly damage your products. Today I have with me the Apple iPhone 5S "Maverick" case and here is my overall review:
Build Quality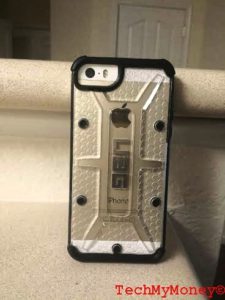 The UAG case that I have received has a nice slim tactile feel to it. The tough composite plastic shell has a micro grain, matte textured finish that fits perfectly in your hands, giving you full grip and control. It even slides in your pockets well. The back of the case has black TPU trim all around the case and has a stylish brushed metal UAG logo that gives the case a simple, yet premium look. The device also has realistic torx screws for appeal only, the buttons are oversized, and easily accessible, giving you a good, sound "click", great for those who wear gloves during work, or for the winter time.
Setup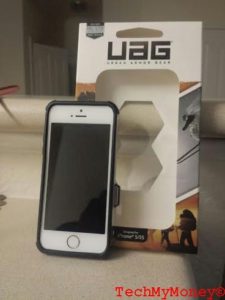 The device's one-piece style construction keeps installation and setup very simple. All you have to do is slide in your iPhone with the volume and mute slider buttons in first then the other side slides in perfectly, the case fits well around the phone inside like an exterior skin, sort of like a real armor. But for any reason, if you have to take the device out of its case, you must work a bit harder than when you installed it. I pressed through the back where the camera and flash is to help release the phone. It isn't a major issue, only because there really isn't a reason why I would need to have the phone outside of its case but for someone who changes case often, they might find it a concern.
Protection
As far as protection is concerned, the UAG case offers plenty of toughness without it being overly bulky. On the inside, case is strategically covered with a honeycomb layer of injected TPU material that's there to protect your iPhone 5 against scratches and absorb shock. The real hard plastic doesn't come in contact with the iPhone's back. Offer up fantastic drop and impact protection from all sides and corners. reinforced corners that help absorb shock like bumpers on a car. The iPhone 5's screen is protected by the cases rim overlay that keeps it at distance from any small debris when it fall face down on the floor. UAG also keeps its cases slightly raised around the back with raised corner bumpers for anti-skid and shock protection. Also with the case comes a few screen protectors, to help keep the screen free of scratches.
*We have also done a series of 3 non-extreme drop test of about 24 inches and not a scratch, mark or dent was on the phone or the case itself.*
Overall we are proud to say that there's absolutely no other case like the Urban Armor Gear cases out there, so we can definitely appreciate original designs and tactical developments that went into creating these armored looking cases.