If you are a Google Play Music user, then today we have some good news for you today. Google has decided to raise the limits to your own personal music library. The previous capacity was 25,000 songs max but Google has graciously doubled the amount to 50,000. This is one of the company's way to bring more value to the Google Play Music service.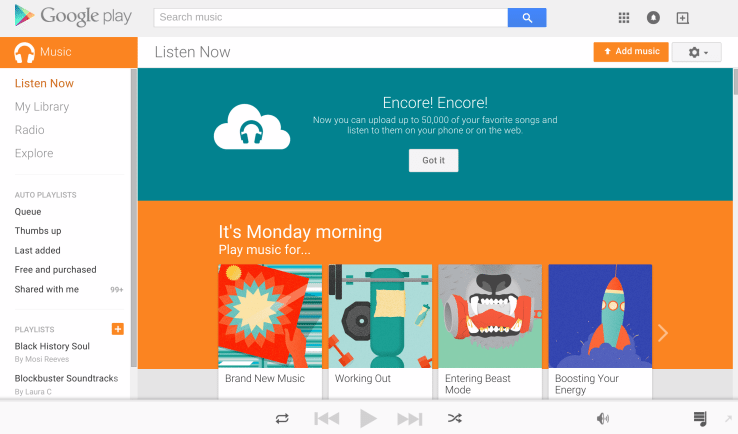 This gift is for both paid All-Access subscribers and free users of the Google Play Music service. All-Access subscribers pay for access to millions of songs for streaming and radio, while free Google Play Music users are limited to the songs that they must manually upload to the cloud. Now with the extra cloud storage being available, neither has a reason to complain.
If you haven't used Google Play Music for its cloud storage, then here are Google's instructions on how to get started:
Sign in to Google Play Music – Go to your computer and visit play.google.com/music. Sign in with your Google account if needed.
Claim your free storage – If you'd like to try our subscription service too, click "Get Started." Otherwise, click "No Thanks" to continue with the free storage.
Add your music collection – The setup process will guide you through adding our Chrome app, which provides seamless uploading. You can choose to simply upload your entire iTunes library or select other music folders.
Access your music everywhere – You can stream or download music to your Android, iPhone or iPad for easy offline listening. It's also all available on the web when you're on your computer. And best of all, when you upgrade to a new computer or phone, your music comes along, too.
Not using Chrome? At step 3 the setup process will instead guide you through installing Music Manager. Don't worry, you can still get access the 50,000 song upgrade. 
Now if Google can start giving away random All-Access passes for up to a whole year free. Both would greatly be a compliment to each other. Until then we'll keep you posted.