Foursquare is now going to use your check-ins to serve you local ads right in the part of town you are in. It's newest platform called Pinpoint (a new advertising solution) will now serve you ads across multiple apps, exchanges and publishers based on where you've been in the past.
"The places you go are the best indicator of who you are." "It's like browser cookies but in the real world. It's also a bit like someone is following you around town to serve ads."
Foursquare
How Starbucks in Mall of America looks to Foursquare #Pinpoint, says @dens #AADigital pic.twitter.com/9bT7e4qsp3

— Tara Wacks (@tarawnyc) April 14, 2015
Not only does Pinpoint send you ads according to where you have been, but with the assistance of a Place Attribution Report, Foursquare can use Pinpoint to helps brands determine if their ads are succeeding by attempting to send you to real-world locations. Now when you check into a bar, your nearby friends will see ads from that bar if they ever return to that area a few days later.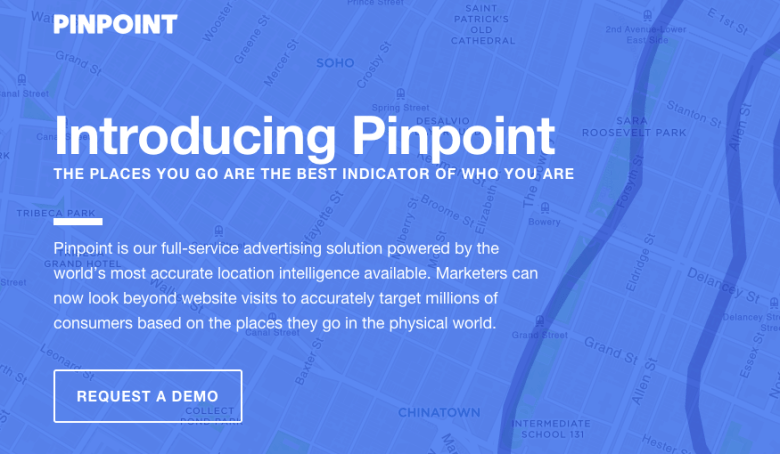 Here's what we do know, based on the initiative's launch site.
The data: Pinpoint will use Foursquare's "six years of first-party location intelligence, which has created a map of the world the way your mobile device sees it."
The breadth: The platform will help advertisers target users based on "the precise places that their audience goes to in the real world."
Where you'll see ads: Pinpoint reaches beyond Foursquare's apps. "Through our verified ecosystem of apps, exchanges and publishers, advertisers can reach not only the Foursquare Audience, but consumers nationwide."
Audience segments: Pinpoint will let advertisers slice and dice their audiences. "Marketers can create custom audiences at scale, using the psychographic data that they need, combined with the location data that only Foursquare knows."
Partners: Samsung, Fedex, AT&T, Olive Garden, Choice Hotels, and Wild Turkey rank among Foursquare's launch partners.