You remember the guy that introduced that cool flying-car quadcopter that ended up is Sylvester Stallone's Expendables 3 movie, he's back again with a cooler, smaller and affordable driving and flying hybrid Tank-Quadcopter called the B-Unstoppable. This guy's imagination knows no bound, makes me wonder why I never took science and math classes seriously.
The B-Unstoppable Tank caterpillar tracks lets you drive across difficult terrains, turns on the spot in tight spaces and gives you a better view for the onboard camera. The hybrid nature of the Tank-Quadcopter like a boss when you face bigger obstacles, you can can simply take-off and fly over them. The hybrid Tank-Quadcopter (B-Unstoppable) weighs only 84 grams, therefore it can be operated nearly everywhere.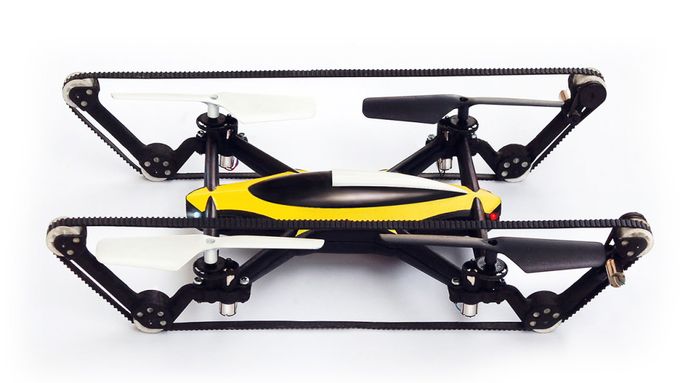 The B-unstoppable Tank's flight endurance is 9 mins, 12-18 mins for driving and a combined endurance 12-15 min. The hybrid Tank-Quadcopter packs a powerful coreless DC motors, 900 mAh Li-po battery and comes with a 2.4 GHz radio transmitter. B-unstoppable is controlled like any standard quadcopter when flying, when grounded, each track is controlled by separate channel so you get the experience of driving a tank. The price point set for the B-Unstoppable hybrid Tank-Quadcopter is what makes it more interesting. From the Kickstarter pitch, you can get the B-Unstoppable for £59 which is approximately $92, £99 for the FPV or £55 for 150 early adopters. Enough of the spoilers, check out the video below to see the B-Unstoppable hybrid Tank-Quadcopter in action. If love what you see, head to the Kickstarter campaign site for more info.