TomTom, the Dutch company, is well-known for its auto dashboard GPS navigation systems and sports watches, has made an action camera to compete with the GoPro's success in the market. TomTom is taking the similar route that its GPS competitor Garmin has taken, now that Garmin has had a bit of success as well. TomTom's reason for creating the Bandit Action Camera was so that its users can easily create exciting videos, edit and share them, all within a few moments.  During my review time, I have spent plenty of time analyzing and testing the TomTom Bandit Action Camera. Here are my results:
HARDWARE & DESIGN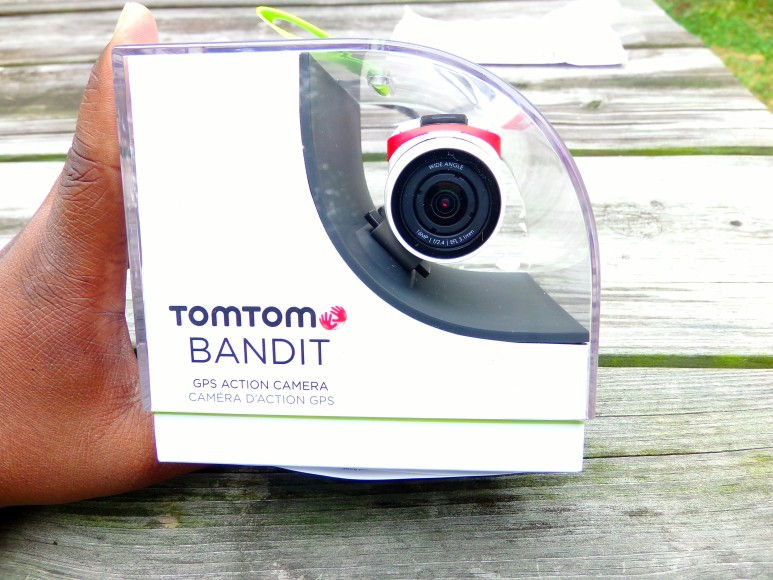 The camera on the TomTom Bandit Action Camera is rectangular and sleek when you first take a glance at it. It weighs more and is longer than the GoPro (without the case). From the top view, there is a non-colored LCD display that shows current and available shooting modes, battery status, storage space and the devices Wi-Fi signal. You can change modes and settings with the navigation (four-way) button. To turn it on you'd have to take a look at the rear of the device (odd at first, but makes sense once strapped onto your bike or flat surface). There is a red button that is responsible for powering on and off the TomTom Bandit Action Camera as well as making highlights (more on that later). The stop recording button on top also powers off the device when pressed down and held (can't power on). Both buttons are very stiff at first, but once you get a feel for them, they eventually loosen up. TomTom also includes a wrist remote control to also mimic the red button on the device.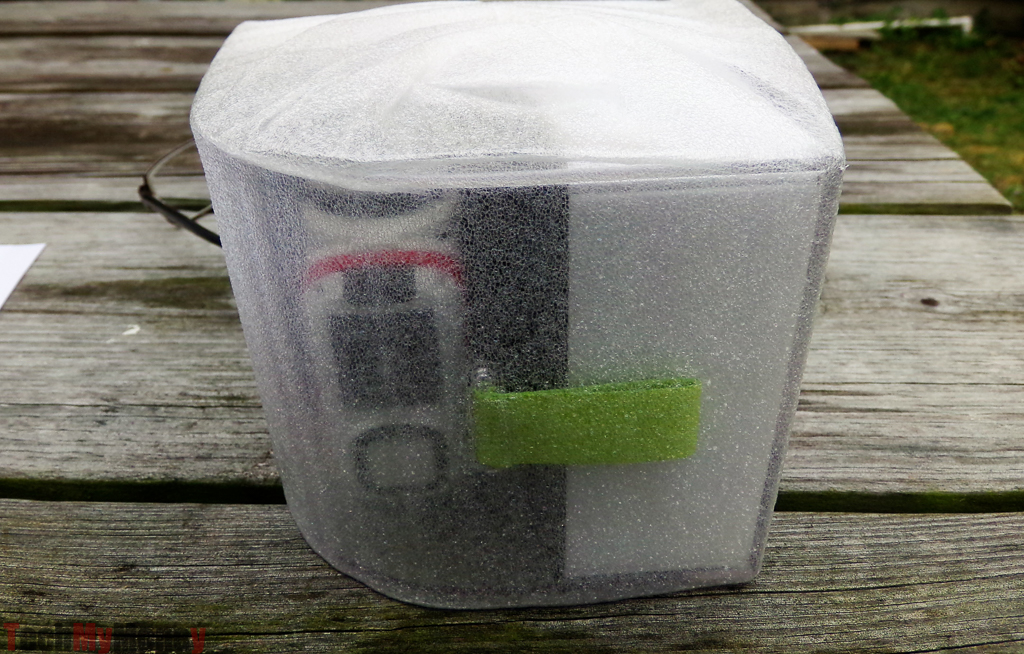 The most innovative and fun feature of the TomTom Bandit Action Camera is the BatteryStick that resides on the inside of the camera. All you have to do to view it is to just twist the rear cap on the device and it should properly loosen up and come straight out. This cool BatteryStick sports a USB 3.0 connection and SD card support, both are built right onto it. The battery is pretty large too, its 1900 mAh (GoPro Hero4 has 1160 mAh) which is as large as some smartphones. To let you know if the battery is fully charged, TomTom has placed four green LED indicators on the bottom of the BatteryStick. The only adjustment that I would prefer on the TomTom Bandit Action Camera is a flash for those low light settings (especially when very cloudy or in shadows). On top of the camera's lens, you have an added waterproof lens. The device alone is certified waterproof down to 3 feet for just 30 minutes. Add on that extra lens and we are talking about some serious diving, it can stand being waterproof up to 164 feet (50m).
SHOOTING MODES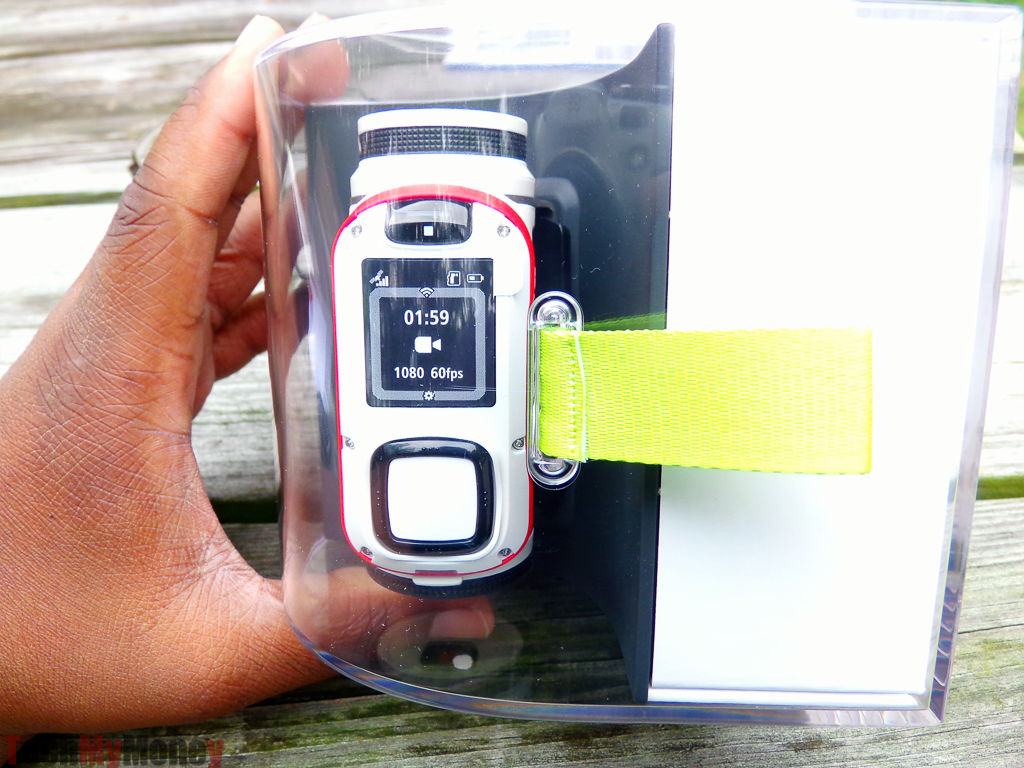 The TomTom Bandit Action Camera offers some good camera specs that resemble the GoPro Hero4 Silver Edition. The best shooting modes for nearly all takes are 1080p w/60fps and 1080p w/30fps. There is also a 2.7k w/30fps and a shocking, yet atrocious 4k w/15fps (which comes out horrible). There is also slow-mo mode (it does 1080p w/60fps then slows to 30fps). All of these modes are great for quick edits on your iPhone through the TomTom Bandit Action Camera App (currently available on iOS, Android later) or the YouTube app. There is also viewfinder controls to change the field of view from wide to normal. Time-lapse mode and Cinematic mode for extra modes that you can experiment with. Overall TomTom has done a great job at trying to keep its action cam pretty simple to use manually without confusing the user. It really doesn't take more than a couple of minutes to get used to it.
IMAGE AND VIDEO QUALITY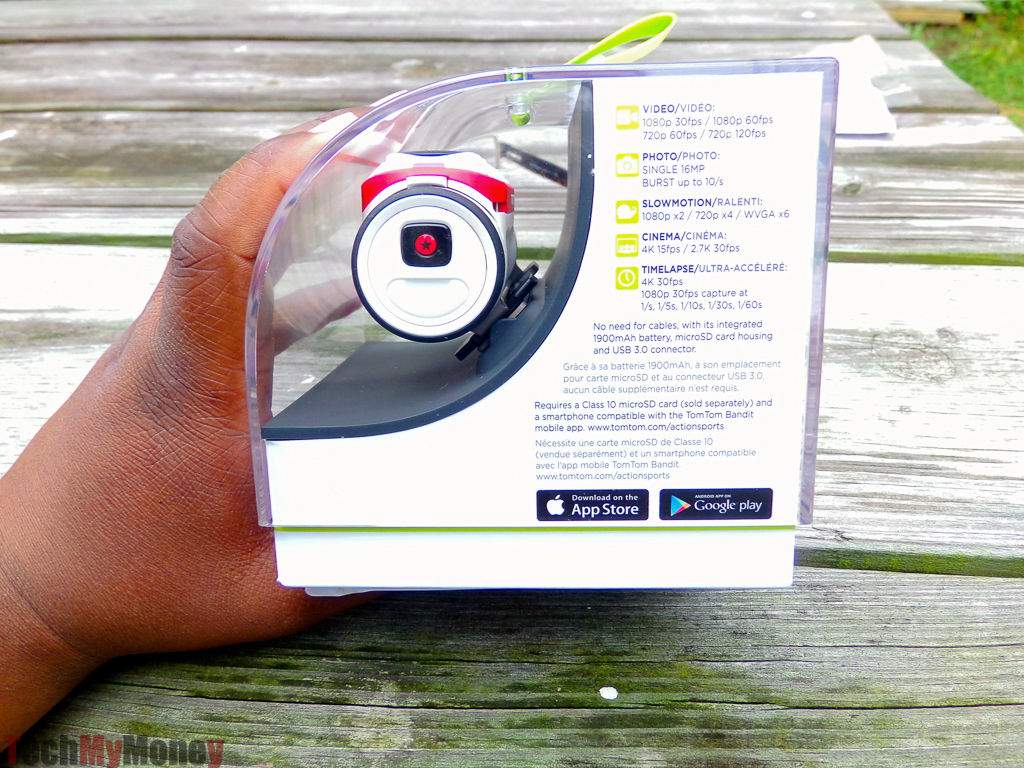 Let's get down to the main course of this review. Everyone wants to know what the quality of the lens is on the TomTom Bandit Action Camera. The colors on this camera are very lively and vibrant. The wide angle lens brings a great wide, dynamic range without any noise. When it comes to video quality, it's not too far off from where the GoPro Hero4 stands, in some shots TomTom does better while in others it lacks the sharpness and attention to clean detail the GoPro Hero4 picks up on. If you have good lighting or the sun is out and shining brightly your shots with this cam will look much better than the GoPro any day, but on cloudy days or not well-lit areas it will lose detail. The audio on this action cam is very decent. Usually the GoPro Hero4 trumps its competitor without much effort but the TomTom Bandit Action Camera comes very, very close (it's quite impressive).
TOMTOM BANDIT ACTION CAMERA APP
One of the most surprising features that I was able to put to the test greatly was the TomTom Bandit Action Camera's App for iOS & Android (PC support will come later). This app presents quick, shake-to-edit abilities. Basically you pair your phone with the camera after a recording, shake the phone (while in the app) and the editing genius of this app will forge its own clip of the best parts of your recording activities. The Bandit Action Camera uses built-in sensors to add highlight tags whenever it senses sudden accelerations or decelerations, vertical drops, and various device movement changes in G-forces, quick rotations, when you hit top speed, and more. Although it is a neat feature, it's expected to miss out on some things, but you can always edit on your own manually too. To help it you can use the highlight button on the camera (I prefer the one on the remote or within the app).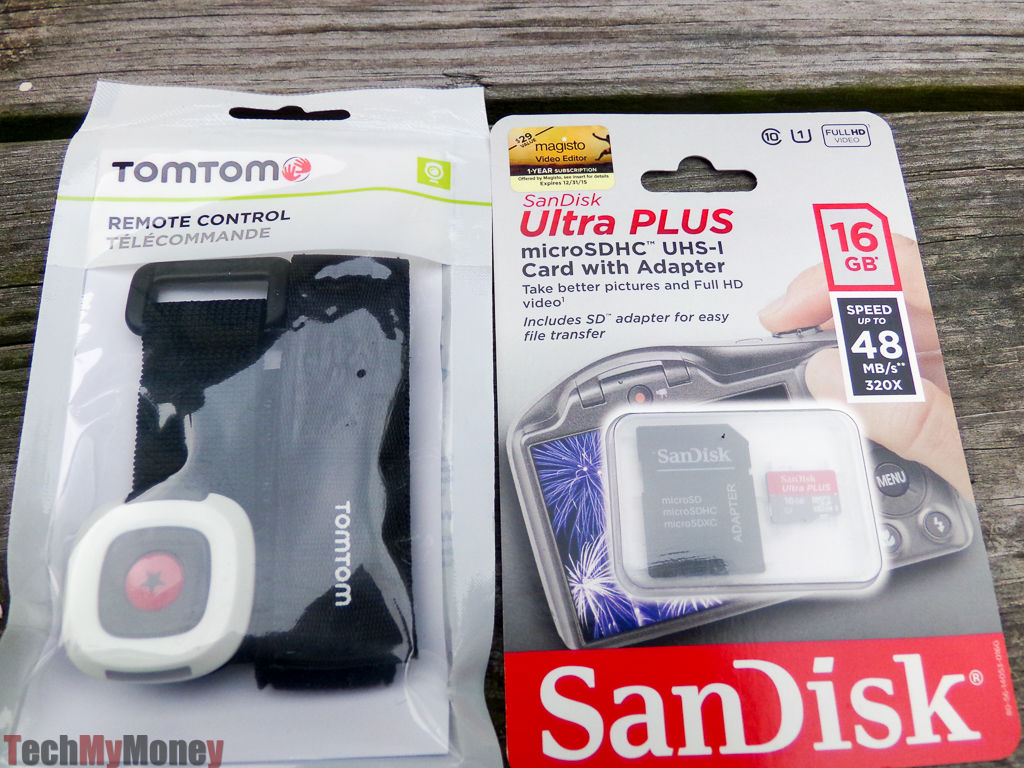 If you have some music tracks on your iPhone (probably via Apple Music right?) then you can add that music to that video that you just shot. The Bandit also has built-in GPS, which is perfect for timing overlays during those speedy or accelerated moments (more overlays will come in the future) right from the app.
Shots Taken w/TomTom Bandit Action Camera
The TomTom Bandit Action Camera comes in two packages, Basic, and Premium. Basic comes with the bandit action cam, two sticky mounts, and a GoPro-mount adaptor, all for $400. The premium comes with the same package as Basic, but with a waterproof dive lens (Totally recommended), a three-axis tilting mount, a charging cable (not USB) and a useful remote control. All of that will cost you $500 (which is on par with the GoPro Hero4)
[graphiq id="6qV9akVTWol" title="Tomtom North America Inc. Products" width="600″ height="400″ url="//www.findthebest.com/w/6qV9akVTWol" link="http://listings.findthecompany.com/l/10323969/Tomtom-North-America-Inc-in-Lebanon-NH" link_text="Tomtom North America Inc. Products | FindTheCompany"]