Headphones usually find themselves being put to use often throughout the day. Whether they are wired or wireless they accompany you wherever you go. But this year is the age of the smart headphones, where headphones do more than just provide audio output, tuning and offer a microphone. LBTech has created such a product dubbed "Elbee". Elbee is a smart wireless in-ear headphones that have launched on Kickstarter and are available for pre-order.
Elbee headphones work well with you smart devices, whether it's your smartphone to your Nest smart thermostat. Turn on/off lights, turn up/down temperatures, control your TV, open/close doors or gates, all of this will work with Elbee smart headphones. LBTech state that Elbee provides these features and more by listening and recognizing your voice and movements to control apps and devices. All of this is under your control by simply using voice dictation and or head movements.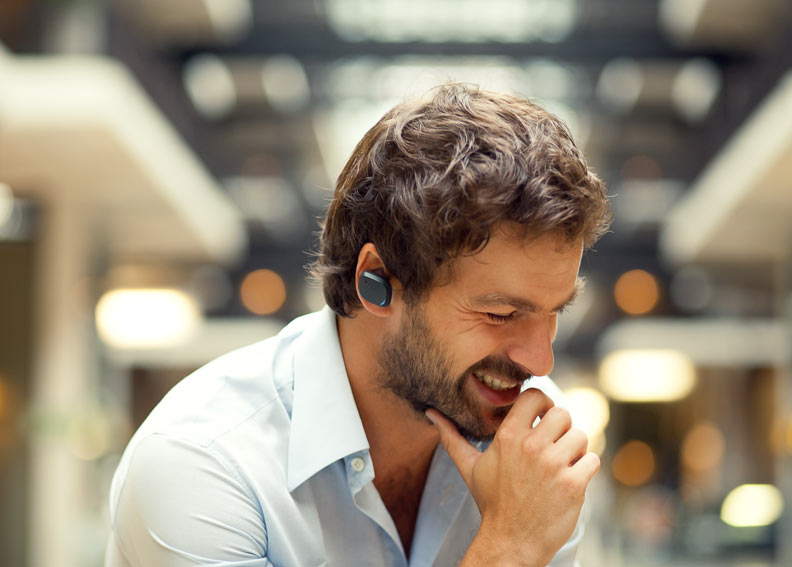 Elbee smart headphones are accompanied with a dedicated smartphone app for both iPhone and Android devices. In the app users store their button controls, voice commands, and customized gestures. If you switch on the always-on listening feature, Elbee can be summoned by simply saying "OK Elbee" out loud and then stating your command. Elbee even works well with various apps like music, maps, emails, messaging and phone calls.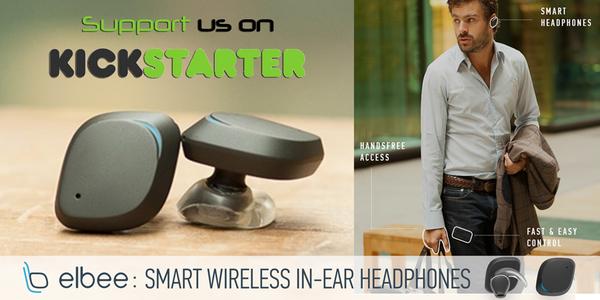 Elbee is priced right now at $269 at pre-order, but if you pledge and help LBTech reach the goal of $250,000 by November 21st, they will take off $120 as a discount for the smart headphones. Elbee smart headphones are scheduled to ship next November (2016) if their project goal on Kickstarter is met. So hurry and get your name on that list so that you can be one of the 1st of your friends with a pair of smart headphones. Until then check out the video and press release below, and feel free to tell us how much you love these headphones.
Introducing First Wireless Headphones to Control Smartphones with Head Movements and Voice Commands, The Elbee
NEWARK, Del., October 13, 2015 – Today LBTECH LLC introduced the Elbee, the first wireless headphones that control smartphones with subtle head movements and voice commands. A Kickstarter campaign is underway to raise funds for production and distribution of the in-ear headphones with smart features. The Elbee enables true screen-less interaction with smartphones and surrounding devices for hands-free control, taking everyday technology closer to a future of "zero user interface." Beyond listening to music and phone calls, users can activate home automation systems, access navigation, receive notifications and send predefined SMS.
"We have become extremely reliant on smartphones for everything from playing music to controlling the temperature in homes, but accessing multiple apps using your fingertips is time-consuming and often frustrating," said Konrad Holubek, co-founder and CEO of LBTECH. "Headphones enable two-way communication with your smartphone and are an accessory that users are already comfortable with. By adding smart features, the Elbee is designed to be the most efficient way to interact with connected devices – getting us closer to 'zero UI' where natural gestures replace the necessity to stare at a screen."
The Elbee is constantly in always-listening mode; a slight upward head movement or voice command ("Ok Elbee") activates the headphones, giving users five seconds to perform an action before reverting to its default ready mode. Alternatively, users can manage control with buttons located on the Elbee. To preserve battery life, the Elbee automatically turns on when inserted in the ear and shuts off when removed. A portable charging case provides 3x charges (approximately 12 hours of power).
Users can customize the Elbee via an iOS or Android companion app as follows:
• Change or add the actions performed by head movements, voice commands and finger taps
• Personalize features according to preferences i.e. audio adjustments, user interface and optimization of battery usage
• Locate the Elbee on a map or emit sound if misplaced; alert user if the headphones are left behind
The Elbee's design makes it multifunctional yet comfortable and easy to use. It integrates the best speaker technology currently available with a balanced armature driver, providing great sound reproduction with full-range response. In order to provide crystal-clear sound in any circumstance, each earphone incorporates an advanced noise cancelation algorithm and two dedicated microphones. Furthermore, the Elbee can be integrated into any application with an SDK for myriad uses such as active video games, posture correction, and real-time language translation.
The Elbee Kickstarter fundraising goal is $250,000 and begins today with several pre-ordering options. First 800 supporters to pledge $149 will receive the Elbee with the first batch production in November 2016. The anticipated retail price is $269. For details visit the Elbee Kickstarter page: http://kck.st/1OtScl3.
About LBTECH LLC
LBTECH LLC is the developer of the Elbee, wireless in-ear headphones with smart features that enable users to enjoy high-quality sound and to access and control devices with voice commands and head movements. Headquartered in Belgium with an office in the U.S., the company was founded by Konrad Holubek and Vincent Canuel in 2013 and is backed by a team of engineers passionate about connected devices, wearables, and domotics. LBTECH was selected among top 50 Belgian startups to invest in by Fund Me, Leansquare, MyMicroInvest, and Trends-Tendances. For more information visit getelbee.com and connect on Facebook and Twitter.