For years now I've been waiting for a Nexus that does everything well. Why a Nexus? Google's Nexus devices have always been the first at Android software updates which means you get security patches first, you get to use Android as it was intended to be, you get to use and experience all the core Android features before anyone else untouched and unaltered. Months before literally. All apps from the play store will work as intended without issues from Manufacturer overlays. I can keep raving on and on but Google's Android even not being the most feature packed is the best version of Android and through this review you may understand.
What's in the box
In the box we have a Nexus 6P, a long USB type C to USB type C cable, a very short USB type C to standard USB type A cable for data transfer, a fast charging wall plug, Google Play music free trial subscription(just a card telling you to open Google Music), SIM tool and manuals.
Build Quality
Google's Nexus 6P is build out of Aluminum, glass and plastic strips for antenna reception. It feels light and luxurious. It will also get scuffs or dings if dropped so as usual a case is required. The volume rocker and power button feel really good as well with great feedback. It doesn't feel slippery due to the flat sides rather than rounder side which would have made it more slippery. The screen is ever so slightly recessed with a lip around it to help with drops. The chamfers at the edges look great when hit by light. Overall great build quality by Huawei. Here's what I think about bending phones.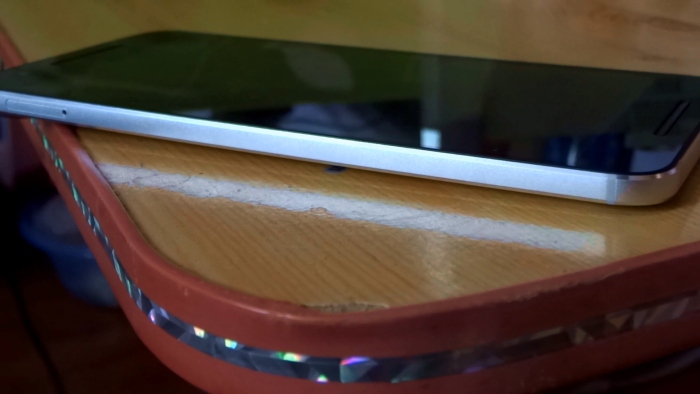 Design
The design is pretty minimal or plain. No special curves or so. The notable part of the design is the visor at the back which isn't only there for design purpose but serves as and alternative design to having antenna line run on the Aluminum back like the iPhone's or HTC's. This design follows suit with a plastic strip at the bottom again for the same reason. The power button is texture and very easy to find and distinguish from the plain volume rocker. There's a fingerprint sensor at the back below the visor and above it is a Noise cancelling mic. There's a USB type C port at the bottom for charging and data transfer which is great but new thus needing you to cherish you one charging cable or get adapters and extra cable. The speakers are at the front and as the "s" in speakers suggest there are two speakers here.
Audio
Nexus 6P packs the loudest speakers on any smartphone to date. They are louder than anything else including the HTC One M9, new Moto Xs and Nexus 6. Where they lack a punch is in the bass department. Luckily they don't distort and produce really loud output with any given form of media consumed on the phone. As for audio through the headphone jack it is pretty standard. Nothing special here and is on par with most high end smartphones on the market. Sound during phone calls and Bluetooth is normal as well even though speaker phone calls take advantage of the very loud speakers.
Display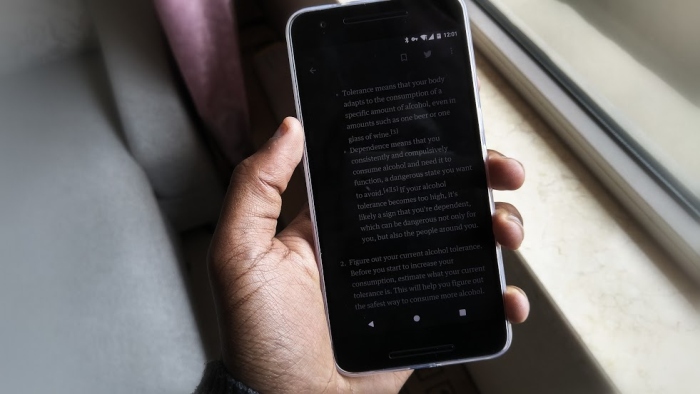 The display is a Quad HD AMOLED display with 518 PPI which is very sharp. Blacks are spot on as you would expect from AMOLED, whites are too warm to my liking. I wish there were display color temperature controls in the settings. Comparing it side by side with the G4 I noticed just how warm the white were. Also when brightness is set to auto and you're reading something at night in your room in the dark the screen is pinkish at lowest brightness. You can get rid of this by turning adaptive brightness off. But in normal use whites are warm and slightly green when tilted. That said the human eye adapts easily to different white points after a period of time so this became less of an issues very quickly. Colors are also saturated and punchy but we seem to prefer these over LCDs more realistic colors. The human eyes love the "punchiness" of AMOLED. If you favor more realistic colors you can turn on sRGB mode in developer settings which fixes the white point too. All things aside the display is very bright. At just 20% brightness it can be just as bright or even brighter than my LG G4 at 50%. Outdoors in the sun though you'll need to crank up the brightness. Samsung's latest phones get up to 1000 nits of brightness when outdoors, LG's shift contrast and colors to enhance readability. I wish the Nexus 6P could do any of those. It isn't bad but you'll need more effort. Overall the display is great. very sharp, vivid, killer blacks and brightness level.
Software and performance
For software there's much to talk of that can't fit in this review alone. It comes with Android 6.0 Marshmallow. You can check out all the features here but we'll like sharing with you some of the rare features. Marshmallow is secure, very secure in terms of how user data is handled. All the new Nexus phones have fingerprint scanners which are part of this. If you set a pin during the setup process your data will be encrypted to that pin. when the phone boots up you'll be asked for it so that your data will be decrypted and your phone will then start. If someone steal your phone there's no way they are getting in. Even if they go by recovery they would be required to use the pin to access your data. Custom recovery as well can't access your data unless your pin is inserted. The fingerprint scanner doesn't work at boot up so you'll have to remember this pin. Apps too can't use or control your settings without asking for permission and if you opt to refuse the app will not be able to use whatever it was asking for. Right from every apps settings you can restrict the data it uses in the background especially on mobile data. This keeps your phone bills in check far away from rogue apps. Also doze and app standby by work together making sure that apps don't run away with battery life both in standby and during normal use. Overall Android 6.0 is a solid update. Much more underground than what's changed at the surface and this makes it a great OS.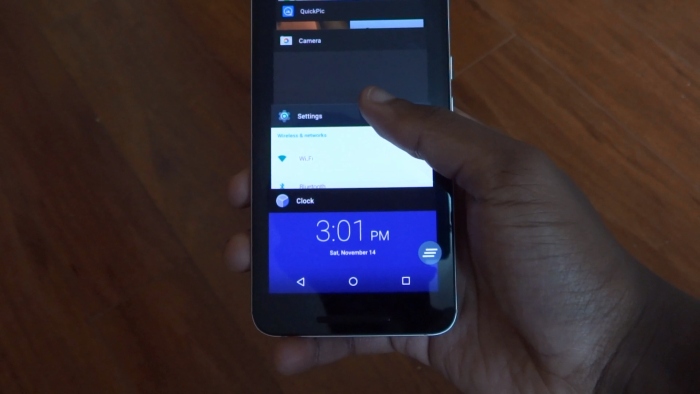 The user interface is Google's Android which is just pure Android with Google's apps and optimizations. It is fast and responsive. This is the fastest Android phone user interface by far and coupled with the fact that the Nexus 6P has a powerful snapdragon 810 processor it just flies. Using it feels like melting butter in a ceramic pot. It is not just fast but smooth. The app opening animation is insane and addictive that I can't even use a launcher that doesn't support it. App switching is crazy quick and it keep so many apps in the background. so much so that even a day after I could return to some apps without them having to reload. Insane! Not just the speed but the aesthetics are just fully blown material design from the dialer and calling animations to the even so subtle bounce during a heads up notification, this phone is a dream to use. Probably the only thing that turns me off is the Google now launcher. It is great but the icons are just way too big. Looks like LG gave Google dpi settings for that one. But like I said this is a dream phone. All apps work from the Google play store without issues.
Battery life
This has hardly been a strong point for nexus phones until last year when the Nexus 6 had OK battery life. The gold standard of battery life for me was set by the Sony Xperia Z3. It's processor and screen had a marriage made in heaven in terms of power management. The Nexus 6P hit right at that mark and even goes further with doze. You've probably heard about doze. They new Android 6.0 feature which makes your phone go into dead sleep when left idle. This feature works miracle. Creating a horizontal line in the battery drain graph was never seen of until now. This means the Nexus 6p drains almost nothing in standby even with WiFi and everything on. After a very long periods of time of about 8 hours I may lose at most 2% not more in standby. This is insane. I have often looked at my 6P and asked if it was real. Not only is this good in standby but it does an amazing job while using it. If it could do as well in standby as screen on then it will last for weeks or months. This said the battery life is phenomenal for me thus far. I'm often at around 4hrs of screen on time with 40%+ remaining if I use WiFi. On data this drops but battery life I can definitely guarantee you is great on the 6P. Check my screenshots below. Charging too is quick with about at most 1 hour and 30 minutes to get to full charge. You can basically get back from work, plug this in go to have a shower, dress up, get ready to go on a date and your phone will be at 70%+. It fits the ideals. A long lasting, fast charging battery.
Camera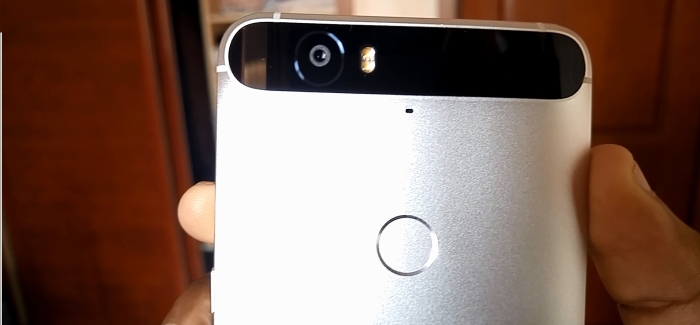 Nexus 6P again here doesn't disappoint. Has a 12.3 MP 1.5µm camera with laser auto focus and an 8 MP camera at the front. It has great cameras. It takes great pictures which are sharp, a tad saturated but not so much and really pleasant to look at. It doesn't do over-sharpening like LG G4 which is great and the shutter speed is faster. In auto mode it does a great job. The G4 does have manual mode though which can give you granular manual controls and so does the Galaxy S6. The good thing with the 6P is it works right out of the box. Fast stable and mostly reliable. I was even surprised there's no motion blur on many of my shots and this is impressive for a camera without OIS. It may not pack the ridiculously high res shots as the S6 or G4 but this works to its advantage especially in low light. Also because of the pixels low light shots have very little noise. turn on HDR+(which is slower) and magic is born. Pictures come out with more punchy colors, less noise and more pleasing to the eyes. This is almost a must have for selfies in low light as the front facing camera is mostly good in daytime. The rear camera is great at stills and should satisfy anyone looking for a phone with a great camera. Full samples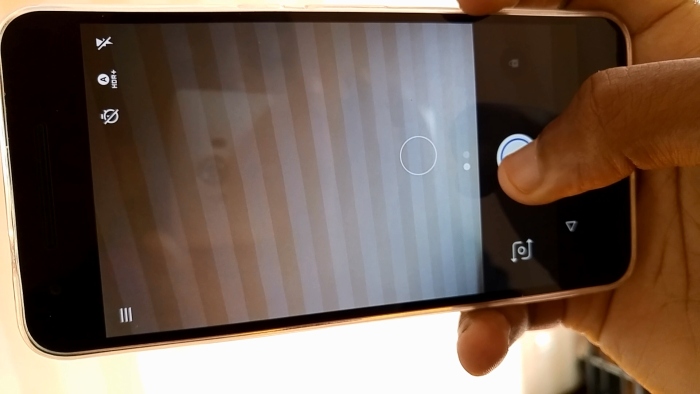 The same story isn't true for videos. Videos are shaky dues to lack of OIS especially when recording in 4k. In 1080P there's some EIS but this isn't as good as on Motorola or Sony phones. It stabilizes the footage but not as much. as to the quality of the videos it is fine just no OIS which means the videos end up shaky. I was more impressed by the slow motion capabilities. Shoots both 120fps and 240fps slow motion videos at 720P. The results are impressive. Check these out.
Special features
The Nexus 6P has a fingerprint scanner which is again phenomenal. Not only is it fast but it is accurate and ridiculously easy/quick to setup. I even tried it with dust on my finger and it read just as quick. I think there's constant scanning going on whereby a first scan is initiated if it doesn't match another was already in the background which will unlock. Like piling books on a shelf or standing in a line. It is at the back so you'll have to pick up you device before unlocking it but at least it doesn't look look an iPhone clone with a home button in front.
Laser auto focus makes the camera focus very quickly while taking pictures or recording videos. Also due to the larger 1.5µm pixels there's basically no motion blur when taking shots just as if it had OIS.
The stereo front facing speakers make sure you never miss a notification or never get late to work because of the alarms. They are loud. You won't miss calls either.
You can use the Nexus 6P as a power bank to charge any other phone provided you plug the USB cord in it first then to the phone in question.
Nexus phone get all Android updates and security patches first and directly from Google. Unedited, uncompromised.
Recap and conclusion
Google nexus 6P is the best Android phone to date and the best I have used too. not question. It has a great display, great built with premium materials, fantastic battery life, finally an excellent still camera, crazy fast processor, Android's smoothest software experience and updates, very secure compare to other Android phones and a terribly fast fingerprint scanner. Adding that it has great speakers and a great US price tag of $499 it is a win. Yes the whites on the display are a tad warm, it lacks OIS and an IR blaster. Also no IP 6& ratings or higher. But here's the thing, the Nexus 6P does it all and I don't feel at all held in anyways from recommending it to anyone. I may like manual controls in my camera or OIS but how often do I use them? The only thing I would have loved was an IR blaster but well it would be missed. The Nexus 6P is highly recommended.
[graphiq id="exgLOjioLml" title="Huawei Nexus 6P" width="700″ height="500″ url="https://w.graphiq.com/w/exgLOjioLml" link="http://smartphones.specout.com/l/4175/Huawei-Nexus-6P" link_text="Huawei Nexus 6P | SpecOut"]