When LG announced their new V-series back in October with the LG V10 as their first device I wasn't intrigued until I actually held one. LG's plan for the new V-series is not to make it just another experimental device rather a new line with extra premium features. If you ask me, I'll say they nailed it with the V-10, with a secondary ticker screen atop the main display, two front-facing cameras for higher-quality selfie photos, a fingerprint reader, a removable battery, expandable memory, an amazing camera that comes with a ton of photo tools and more. 
"This is the beginning of a new series."
Ramchan Woo, VP of Product Strategy for LG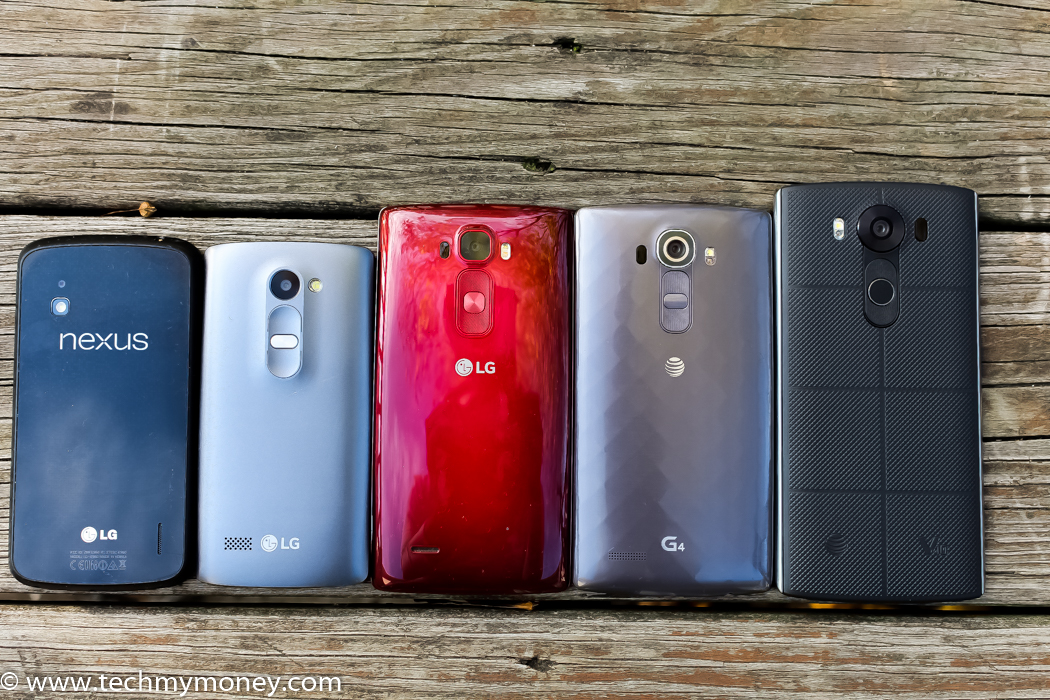 Note: We're reviewing the AT&T model of the LG V10.
In the box:
LG V10
Wall charger
USB cable
Papers
Design
The LG V10 device borrows a lot of its design cues from its flagship counterpart, the LG G4 with the exception the signature curved body that we've seen in other LG flagships this year. The V10 is a completely flat device and feels like a very different smartphone from the G4. Both sides of the LG V10 is made of 316L stainless steel and the body that is wrapped in DuraSkin, you can find the metallic accents around the camera and front-facing audio grille. The DuraSkin coating is very soft to the touch but is twice as hard as plastic, and 10 times stronger than aluminum. The back cover does not have the usual plastic feel seen on most LG device rather they decided to give the back panel a strong texture that's very grippy. The V10 comes in five colors, and our review unit is the Black one. With all the premium materials used. The overall design of the LG V10 screams quality and "rugged". LG claims that the military-grade durability makes the phone more durable and shock-absorbent.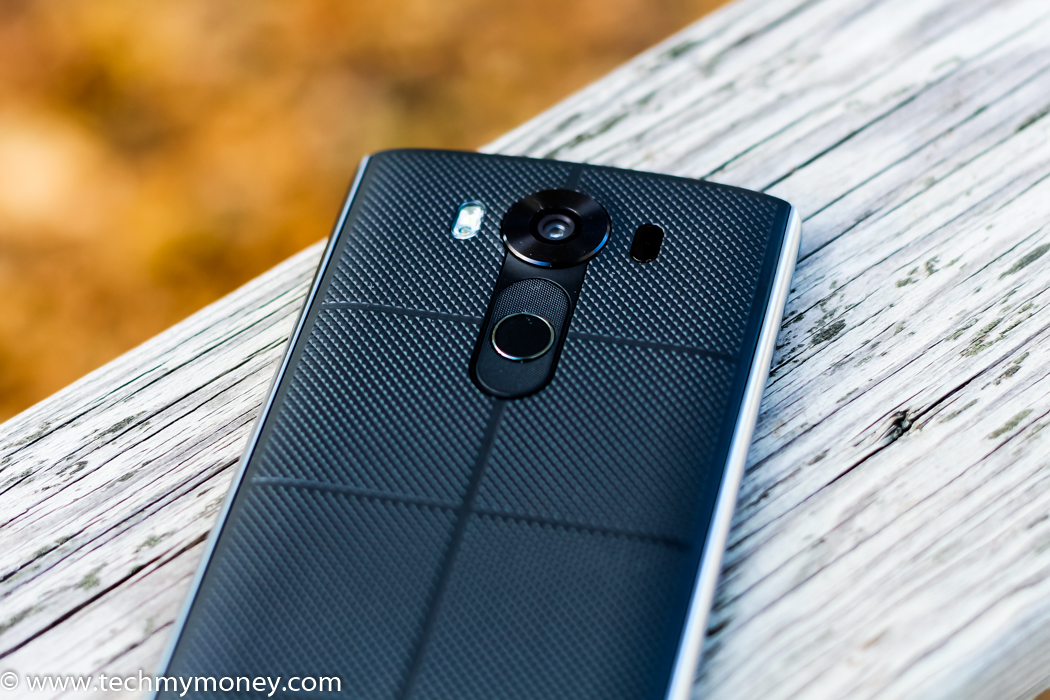 As for the top section of the LG V10, you'll find the infrared blaster that turns your device into a universal remote, thanks to the QRemote app. A 3.5mm headphone jack, a Micro-USB port, and an audio speaker grille are located at the bottom section of the device. Just like every other recent LG device, the V10 comes with almost the same placement of rear keys but this time, the V10 power/lock key now doubles as a fingerprint scanner. We also have the volume rocker, camera, flash and laser autofocus sensor at the back of the device.
Displays
5.7-inch main display with 2,560×1,440-pixel resolution
513 ppi pixel density
2.1-inch secondary display with 160×1,040-pixel resolution
502 pixels per inch
You can't help but notice and fall in love with the 5.7-inch IPS LCD display with a Quad HD resolution. Thanks to the 1,440p resolution and a pixel density of 515 ppi, the display is beautiful, sharp and vibrant for media consumption, gaming or regular use of the device.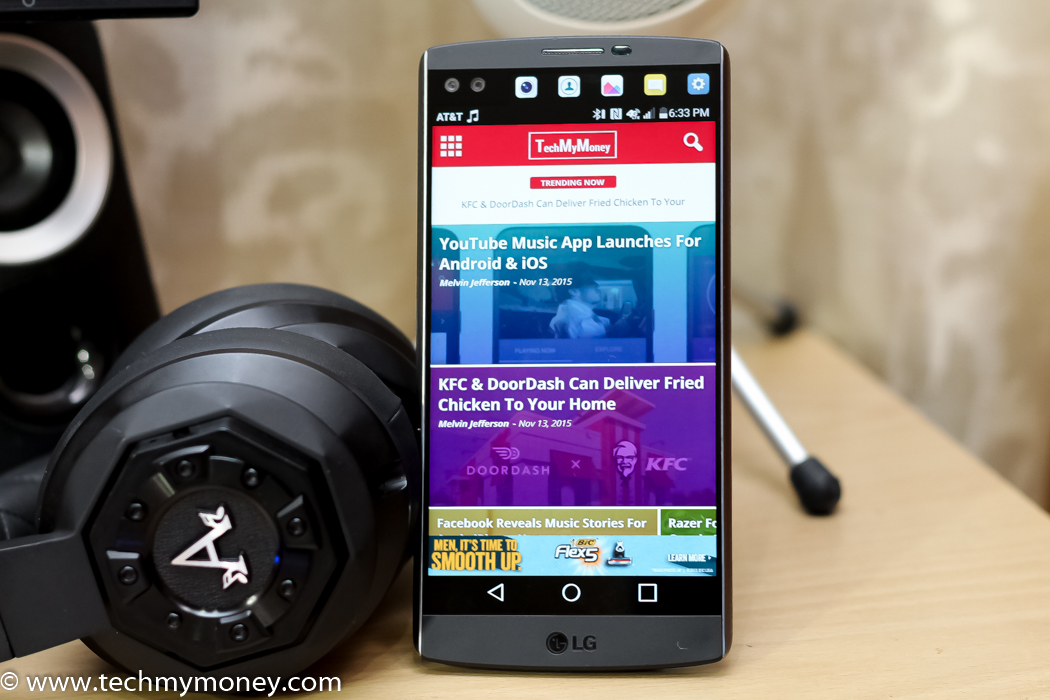 The LG V10 features a primary 5.7-inch IPS LCD display with a Quad HD resolution, resulting in a pixel density of 515 ppi. As expected, the display is beautiful, sharp, bright and easy to see outdoors. Media consumption and gaming certainly benefits from the large size. Let's not forget the second display that LG added to the V10, the concept if new and it works. The second display has six shortcut menus to swipe through which houses your favorite apps, music player controls, five of your favorite contacts, your calendar and a general greeting where you can add your custom personal message or name. Before I started using the LG V10 I was one of those who thought the new second screen feature will be pointless until I held and used one as my daily driver. The second screen adds more functions when using the camera app.
Cameras and video
16-megapixel rear-facing camera
Two 5-megapixel front-facing cameras
Can record 2,160p (rear) and 1,080p video (front)
Camera features include multi-view and Snap
The LG V10 rear 16-megapixel primary camera is amazing in every scenario you put it through be it low light or a well-lit scenery, thanks to the f/1.8 aperture, optical image stabilization (OIS), and a laser-guided autofocus system. For those of us that use the Auto mode to take pictures, the images still come out excellent, sharp and accurate color reproduction.
There's also a Manual mode for photography enthusiasts who like the more hands on approach of taking pictures or videos. For photography, the LG V10 has controls for adjusting white balance, depth of field, ISO levels and shutter speed. You have the option to shoot your images in three different aspect ratios: 16:9, 4:3 or 1:1. The V10 manual mode section also allows you to save your images in JPEG format, or uncompressed RAW format. For the Manual video mode, the LG V10 steps up the game by adding DSLR features you won't find on most flagship devices. You can adjust the white balance, ISO, shutter speed, and manually control the focus in this mode. You  can shoot your videos in 4K, 1080p, and slow motion. LG V10 owners have the ability to adjust video quality by choosing a low, medium or high bitrate level which lets you record in a cinematic mode that brings the frame rate down to 24 fps for a cinematic look. Good audio when shooting a video go hand in hand, the V10 also allows you to monitor the audio in real time, thanks to the sound level meter that's displayed on the upper left corner. You can adjust the audio levels, control what direction that you want to record your audio from and turn on or off the wind noise filter for better audio quality. Overall, the video quality on the V10 is amazing be it in the Simple, Auto or Manual mode.
Two front-facing cameras
Yes, you read that right, the device comes with two front-facing cameras because LG cares about your selfie game a lot. One camera comes with the standard 80-degree angle lens, while the other has a 120-degree wide-angle lens, for capturing more background space. If you are a solo or groupie selfie take, LG wants you to be rest assured the LG V10 will cater for all your needs.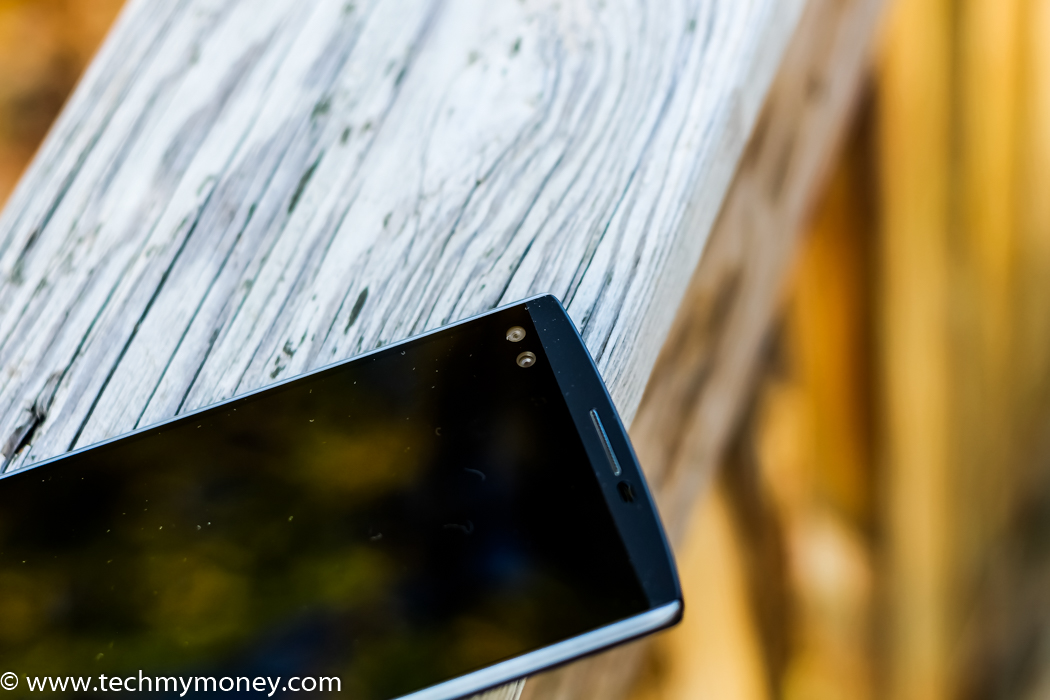 Hardware performance
1.8GHz six-core Qualcomm Snapdragon 808 processor
64GB of internal storage (with up to 2TB of expandable memory)
4GB of RAM
Removable 3,000mAh battery
LTE Advanced, category 6
Wi-Fi 802.11 a/b/g/n/ac
With the LG V10 1.8GHz six-core Qualcomm Snapdragon 808 processor and 4Gb of RAM, launching apps, playing games or daily usage tasks run at a swift and butter smooth rate without any lag or stutter. Powering off and restarting the V10 device takes about 30 seconds max. I was really pleased to know that the only storage configuration available with the LG V10 is 64 GB, which is far better than the 16GB option offered by most rivals. It also comes with up to 2TB of expandable memory via microSD for those of you who want more than what the internal storage has to offer. The LG V10 comes with one cool feature we hardly see in any rival flagship device, the phone comes with a removable 3,000mAh battery. Put it this way, the 3,000mAh battery is good enough to last a full day with average use. If you turn out to be a heavy user, the LG V10 comes fast charging capabilities (Quick Charge 2.0 technology from Qualcomm) for charging your device from a completely drained state to 100 percent in about an hour and 10 minutes.
Software
Google Android 5.1.1 Lollipop mobile operating system
LG's custom user interface, UX 4.0
LG apps include LG Health and QuickMemo+
Rear fingerprint sensor
The LG V10 comes with Android 5.1.1 Lollipop out of the box, with an official upgrade to Android 6.0 Marshmallow by the end of the year, or early next year. LG confirmed that the V10 will get the Marshmallow update within six months of its launch so let's keep our fingers crossed. Depending on your carrier, your Lg V10 will come preloaded with your carrier apps. In my case, I have the AT&T version with the regular AT&T apps, a bunch of Amazon apps (Amazon and Amazon Kindle), Direct TV, Uber and Yellow Pages Local Search apps preloaded. You'll also get apps from Google, such as Gmail, the Chrome Web browser, Maps, Google Now (which is also launchable by sliding upwards from the center home softkey), the Play Store and more. You also get some signature apps from LG like the QuickMemo+ used for jotting down notes or doodles, music player, your Calendar and more. A couple of other features that made their way from older LG devices like the Dual Window which splits your screen in two so you can use two apps simultaneously and the KnockOn and KnockCode.
Conclusion
If you don't mind the price of the LG V10 which falls within the $600 – $700 price range off-contract, then this is the device you'll need for an upgrade. From someone who has used almost every LG smartphone, the LG V10 screams premium, from its touch, feel to its features. The LG V10 will make you retire any device you are currently using. The V10 is packed with features that will appeal to any select group of users. The only thing I didn't like about the device is the absence of the new USB Type-C cable because I'll love to use this device beyond next year.
The LG V10 is now available on Verizon Wireless, T-Mobile and AT&T
Full Retail Pricing