In recent times, PC users could only get access to a Windows PC experience via Desktop PC's or Laptops. This year we have tablets that support the OS as well as Windows smartphones that can provide a very close experience to having a desktop/laptop experience without having to carry all of the hardware or be stagnant near a wall and chair. And since CES 2015 we've even seen a new trend that offers Windows PC experience at an even smaller size and affordable price point. With the PC stick, users can plug them in any display with HDMI outputs (like TVs) without needing cords or thousands of dollars. The Azulle Quantum Access Windows 10 PC Stick & Logitech Wireless Touch Keyboard K400 Plus bundle does just that and promises you access to your things anywhere.
HARDWARE & DESIGN
The Azulle Quantum Access Windows 10 PC Stick is obviously small once your eyes are on it. Its size is very similar to the original Google Chromecast, except it's twice as long, which is perfect for carrying around in your pocket. This PC stick also has ports on its sides for you to add devices or storage. There is a full-sized USB 2.0 port, a microUSB port, a microUSB external power port and lastly a microSD card slot. On the end, you'll find an HDMI plug to connect with your TV.
Azulle notes that this device is also fanless, which means that it's quiet and never gets too hot to damage the internals. Under the hood, you'll find an Intel Atom quad-core processor, 2GB of RAM, 32GB internal storage, and Intel HD Graphics.
COMPUTER USAGE
Users of the Azulle Quantum Access Windows 10 PC Stick can expect basic usage of their PC stick, from browsing the web to basic programs, although I wouldn't try running any photo or video editors and advanced gaming. It streams videos very well and it can play most of the games that the Windows Store has very well. While it won't replace a gaming PC or a high-performance laptop, it handles basic PC programs like MS Office very well, which is obvious since it runs on Windows 10.
LOGITECH WIRELESS TOUCH KEYBOARD K400 PLUS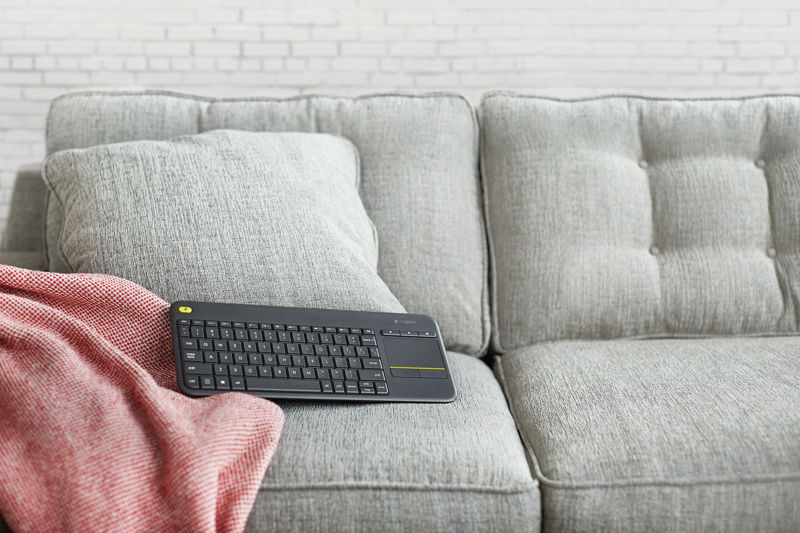 The Logitech Wireless Touch Keyboard K400 Plus is the newest version of the K400 model. This model pairs perfectly with the PC Stick because it allows you to control your computer, right from the comfort of your living room couch or while in bed. It seats comfortably in your lap, presents a familiar keyboard layout that keeps all of the keys that you are used to using on your laptop and provides all of the tools that you need. The Logitech Wireless Touch Keyboard K400 Plus has a built-in trackpad, plenty of PC based media control buttons, it's perfect for two-handed use and its solid wireless range can support nearly any size room with the reach up to an amazing 33ft.
The Logitech Wireless Touch Keyboard K400 Plus boasts an impressive battery life that lasts up to 18 long months of battery usage. You can easily go an entire year (or two) without having to worry about weak or drained batteries preventing you from finishing your important paper or disabling you during your gameplay.
CONCLUSION
If you are looking for a device to handle simple PC tasks or just to stream internet videos and play games on your TV without any brand restrictions or cables, then the Azulle Quantum Access Windows 10 PC Stick is a great choice. The price of $159.99 is very affordable for a full Windows 10 experience and In-Home Streaming.
Also Azulle is offering a great bundle that pairs the awesome Azulle Quantum Access PC Stick with a Logitech Wireless Touch Keyboard K400 Plus. With this combination, users can easily transform their TVs into a PC in any room. All you need to do is plug up the PC stick into the TV and then plug the wireless receiver into the PC stick's USB port for connectivity. The Logitech Wireless Touch Keyboard K400 Plus is battery powered (2 AA batteries) and batteries are said to last up to 18 months. The keyboard has a familiar layout like other keyboards but this one adds an integrated touchpad.
Discover the Azulle Quantum Access PC Stick & Logitech Wireless Keyboard bundle ($159.99) here.
Azulle Quantum PC Stick & Logitech Keyboard
Azulle Quantum Access Windows 10 PC Stick Specifications:
2GB RAM DDR3L
32GB eMMC storage
Full USB 2.0 port and micro USB port
USB mouse wired & wireless support
USB keyboard wired & wireless
Bluetooth 4.0 Technology
802.11 b/g/n Integrated Wireless Network
HDMI Output
I partnered with the brand to write this article but every word is mine