I've owned a couple UAV's, I've even successfully funded and partnered to make one that was featured in the Hollywood movie "The expandable 3", the Blade Chroma Camera 4K Drone now ranks amongst my top 5 drones for anyone who wants to get into the hobby of flying SUAV's or aerial videography. The Chroma 4K Drone makes it to my top 5 recommendation list because of its stable system, modular, and price for what it offers.
Whether you're a first-time drone user or a seasoned pilot, the Chroma's top-of-the-line 4K camera and agile navigation lets users of all abilities capture that epic shot right out of the box.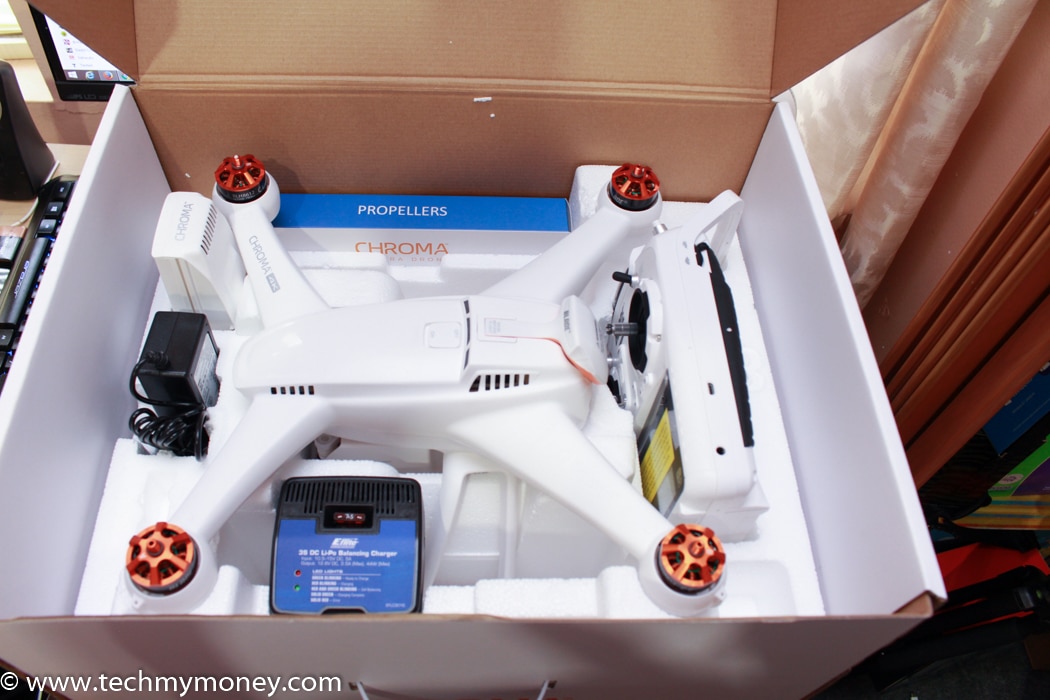 Key features include:
Easy-to-use, Android touch-screen controller featuring flight and camera controls, along with a video display
Captures smooth, steady aerial video in stunning 4K definition
No-distortion camera lens eliminates fisheye effect
Everything in one box
Long-lasting battery that delivers up to 30 minutes of flying time
Uses GLONASS and U.S. GPS for greater accuracy and reliability
Mast-mounted GPS antenna for superb signal reception
Exclusive SAFE Plus technology makes the Chroma accessible and enjoyable for anyone to fly
The only drone on the market that easily disassembles so transporting is effortless
Additional flight modesthat cater to the more advanced user, including:

Follow Me: Set the drone to follow you at a distance to line up the perfect shot;
Tracking Mode:Use the Chroma Wizard controller to keep the camera pointed at you and catch yourself in action when no one else is around;
Smart Mode:Lets first-time flyers easily operate the drone without flying too close to you and those around you;
Return Home:The flip of a switch ensures the drone comes back to you and lands safely; and
Adjustable Boundaries:Set boundaries to keep your drone within altitude and distance limits you define.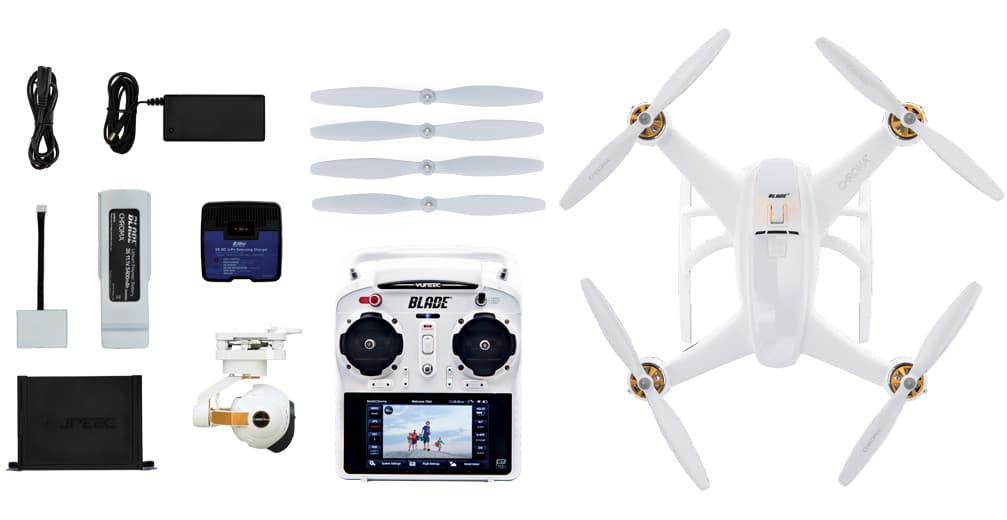 Flight Capabilities:
The Blade Chroma 4K has a 30-minute flight time and comes programmed with 3 flight modes. Smart mode, which includes the Follow Me and Watch Me feature. Switching your Radio controller to the Smart mode position, the Blade Chroma 4K flies in the Intelligent orientation control position. This mode is perfect for first time pilots, the Smart Mode uses Stick Relativity to move the drone in whatever direction the control stick is pushed, no matter which way its nose is pointed. It also creates a SAFE Circle™ barrier that prevents you from flying too close to yourself or people standing next to you.
There's also the AP (Aerial Photography) Mode, this mode is for the more experienced pilots. With drone switch to the AP mode, the Chroma 4K drone responds like a conventional RC aircraft without Stick Relativity or the SAFE Circle. The response is smooth and predictable so panning and tracking shots look great. The Follow Me Mode is your Built-In Copilot. In this mode, the drone follows you at a distance and altitude you set so you can focus on lining up the perfect shot using the rudder and camera tilt controls. Finally, there's the Tracking Mode which allows you or any person with the controller to be the star of the show. The drone will follow and keep the camera pointed at whoever is holding the ST-10+ controller. This is a great way to capture yourself in action when no one else is around to fly for you.
Battery
The Blade Chroma 4K drone comes with an 11.1V 3S 5400mAh Li-Po battery and promises to deliver about 30 minutes of flight time. For my test flight, I got about 25 minutes of flight time before switching to my second battery. I'll advise you to get a second battery for to double your flight time and more fun.
Camera
The Chroma 4K drone comes with the CGO3 a high-definition camera and 3-axis stabilization gimbal that lets you take stunning 4K Video and brilliant photos. The 3-axis stabilization gimbal helps you captures steady aerial video and stills in unbelievable detail. When in flight, all camera controls are placed within easy reach on the included ST-10+ controller.
Camera features include:
4K/30fps or 1080p/120fps video
12MP photo
No-distortion lens – eliminates fisheye effect
Integrated, 3-axis brushless stabilization gimbal
Adjustable resolution and frame rate
Adjustable settings for different lighting conditions
Streams live video to the ST-10+ controller from as far as 600 meters
Streams live video to multiple mobile devices within 90-120 meters *
If you can't afford the Chroma 4K version or you don't have the hardware to post-edit 4K videos you can go for the CGO2+ Stabilized 1080p camera. The CGO2+ camera records 1080p/60fps videos and takes 16MP stills. As for the three-axis gimbal, it does exactly what it's meant to do, keeping the camera stable for those butter smooth tilts and pans.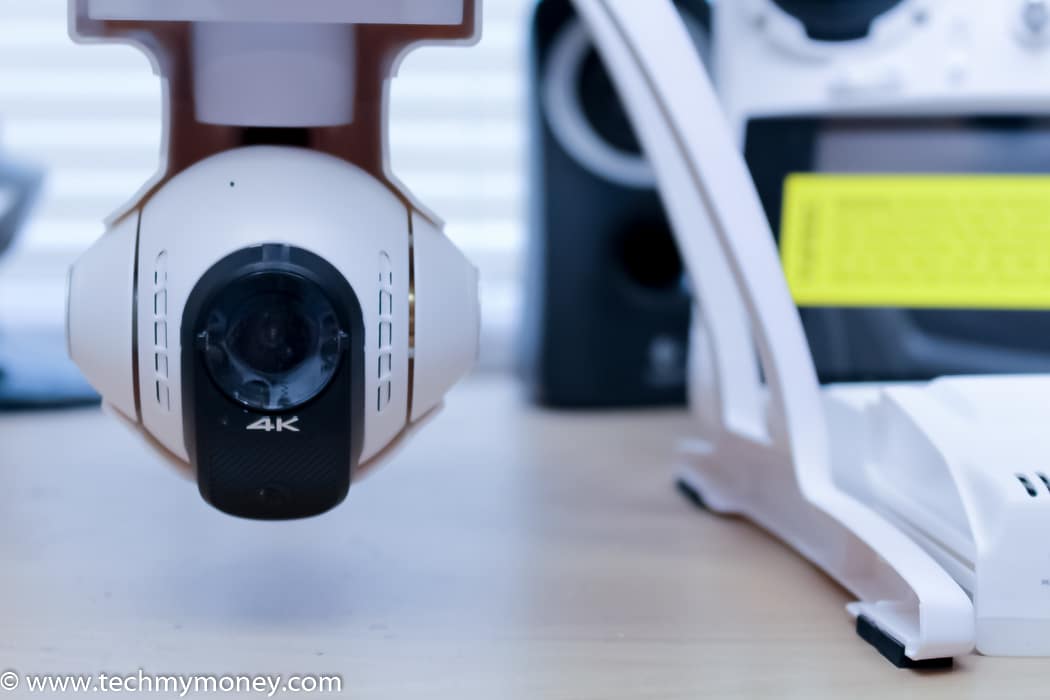 The ST10+ Remote
The ST10+ Remote was designed to put everything at your fingertips, thereby eliminating the need for a separate smart device with the ST-10+ controller. Everything you need, including the camera controls and a touch-screen video display, is built right in. It comes in a white plastic finish and features a rechargeable battery (it uses a standard micro USB port for power). The large, 5 ½ inch touch-screen display with intuitive Android interface displays your flight controls, live video and real-time telemetry info like speed, altitude, and battery voltage for both the drone and ST-10_ controller.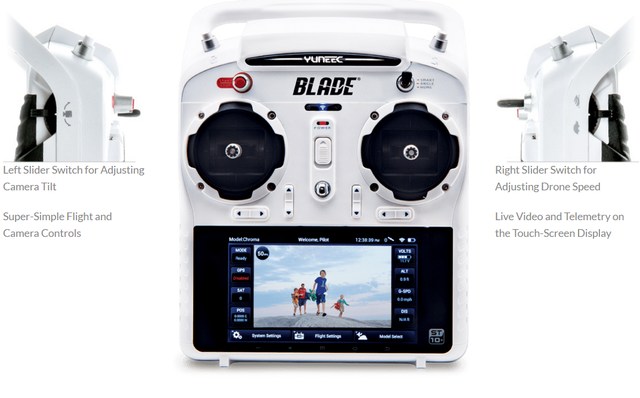 The ST10+ Remote Features
Large, 5 ½ inch touch-screen display with intuitive Android interface
Displays live video and real-time telemetry info like speed, altitude and battery voltage
Clearly marked switches and buttons
Super-simple flight and camera controls
A slider switch for adjusting camera tilt
A slider switch for adjusting drone speed
Flight
Your first flight with the Chroma 4K is as simple as spinning on the props, charge up the batteries for your controller and drone then you're ready to fly. It's also wise to calibrate the Chroma 4K drone onboard compass, this can be done by facing true north and doing the Chroma Dance. Horizon Hobby has videos showing how to do it and more with the drone. The ST10+ Remote takes a minute or two to boot up and connect to the drone after it's powered on. If you intend to fly the Chroma 4K with the Smart Mode feature that lets you hovering in place,  return-to-home and among other things, then you'll have wait to lock onto more than six satellites.
The Blade Chroma 4K safety features such as its Geofencing capabilities, speed control, low-battery return home, smart circle, and FAA no-fly zones will certainly come in handy for both experienced and first-time flyers. Be sure to take some time to read through all the documentation that comes in the box, and watch the instruction videos online to be conversant with the LED status lights that indicate your flying mode (if the Chroma 4K is ready for take off or needs calibration).
The Chroma 4K drone does not come with an automatic takeoff or landing mode but the return home feature and take off style is pretty simple and straightforward. Pressing and holding the red button on the controller gets your motors to start spinning, moving your left stick in the up position will have your drone in the air. Thanks to the GPS feature that comes with the Chroma 4k drone it does a fairly good job of staying/hovering in one place on its own. The Blade Chroma is limited to a maximum height of 400 feet (in compliance with FAA guidelines in the United States) and can only go as far as 650 feet away from the launch point in any direction. Experienced fliers or people in different countries with air space rules can use the Chroma GUI software to adjust the geofence to as much as 8,200 feet (2,500 meters), turn off distance limitation. With ideal conditions, you can fly as far as 2,000 feet before the transmission signal weakens, I've seen some reviews got further than that on YouTube.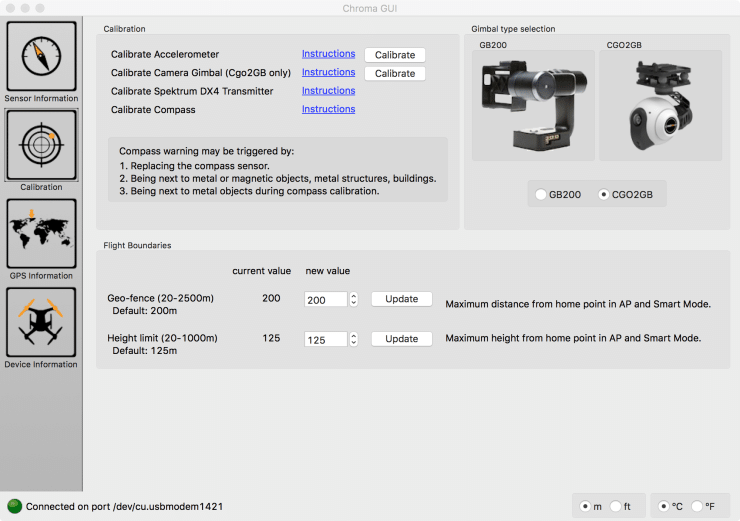 Conclusion
The Horizon Hobby Blade Chroma 4K is a stable and solid drone that comes with some pretty good features. The Chroma 4K drone is a great value for first-time fliers, professionals or anyone who just wants to add a new drone to their collection. From the operating range to the integrated camera that records in 4K and the ST10+ remote, with its own display, I'll certainly recommend this drone to anyone who wants the best bang for your buck quadcopter available.
Buy Now for $1199.99– $1349.99 (CHROMA Carrying Case Bundle with
CGO3 4K Camera (BLH8691), or visit the Horizon Hobby Chroma page for more information and spec.
The Pros
Complete Ready to Fly package out of the Box
Stable and versatile 4K camera gimbal for the sky and ground operation.
Smart features for easy and safe flights
The Cons
No way point option
Have to disable the GPS in order to go faster
No ability to playback video from controller