Samsung. The name itself says a lot of things about the tech giants. This year they decided to refresh their Galaxy series flagship devices with iterative and correctional designs to last year's Galaxy S flagships notably Galaxy S6 and S6 Edge. This year they have two again but the difference is much clearer. A Samsung Galaxy S7 Edge which has a unique ambidextrous curved screen with a larger 5.5" Super AMOLED display and 36000mAh battery along a Samsung Galaxy S7 which is more classic in design but having a 2.5D 5.1" Super AMOLED curved glass in front and the same curved glass from the S7 Edge but on the back this time and a 3000mAh battery. The one reviewed is the later. The two have almost the same experience and Samsung wanted to give users more choice than last year. Did they make the ultimate smartphone?
https://www.youtube.com/watch?v=MjfkIqoslf4
Unboxing
The box has a phone, booklets, warranty, SIM card tool, Micro USB cable, Adaptive fast charging wall plug, earphones, Micro USB OTG adapter.
Design and build quality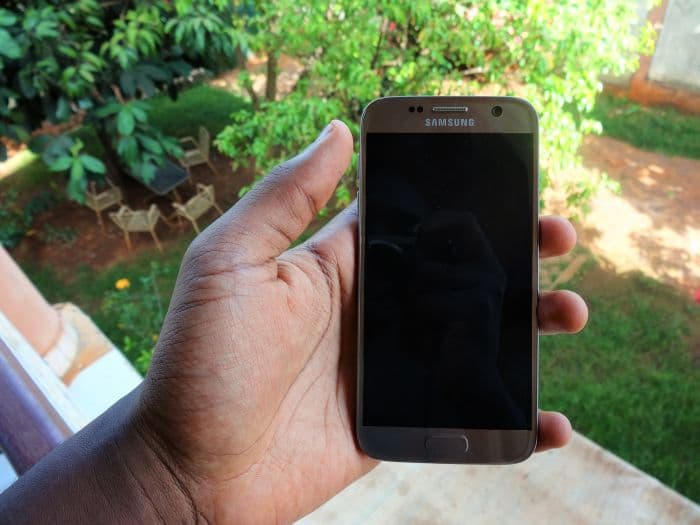 The design of the Galaxy S7 is nothing that new. It is a cross between a Galaxy S6 and Galaxy Note 5 with a thicker body(which helped Samsung increase the battery capacity) and smaller camera bump. There's still a very slight bump but it is protected with a metal rim. The fingerprint scanner has been upgraded too to be faster even though you still need to press it before it reads your fingerprint unlike the capacitive read and unlock. You can long press the home button when the screen is off to unlock too incase you're not used to press and release. Not an issue as I use an iPhone by the side for some tests and daily life as well. It is a gorilla glass sandwich again this yeah with a layer of 7000series Aluminum. It feels very sturdy and premium. It also feels like it was meant for sitting in someone's hand. All the corners are soft and rounded making it feel so nice and natural to hold. The small size makes it very easy to grip. It makes me not want to buy a case but I must as it is glass. Only the bottom edge occasionally feels sharp but nothing too alarming. Just a nitpick I couldn't resist. It is also IP68 which means you can walk in the rain with this phone, leave it in a washing machine, spill coca cola or hot water on it, leave it in the freezer or drop it in the toilet. Basically YouTubers have tried all these and their phones were all just fine. What I hate is the back of the phone extremely prone to fingerprints. You'll need a cloth to clean it every time and I'd have preferred Sony's frosted glass here instead.
Display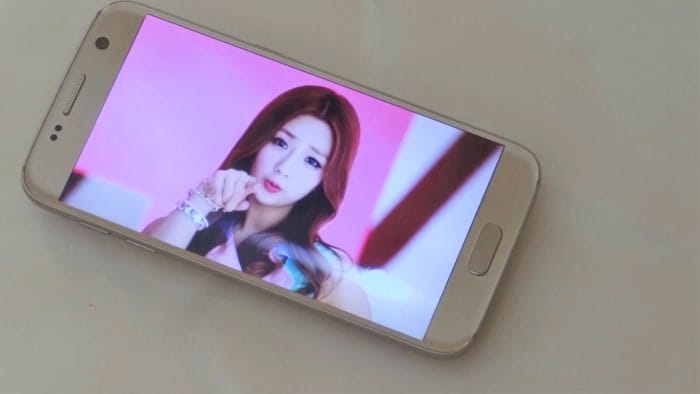 The display here is absolutely top notch. It is Quad HD Super AMOLED and need we say it is gorgeous. You're damn right it is and nothing else comes close. Mainly because of how Samsung calibrates it's displays. The adaptive mode that I noticed changes colors depending on the app you are using to either boost or reduce saturation is what I used. Compared to a display like that on the Nexus 6Pthis one feels just right out of the box. No tweaking or extra adjustments needed or custom kernels for such. I think it's safe to say Samsung does AMOLED best. Now if you're really picky and say you want your display to look more like an LCD display with colors closer to sRGB you can do so by setting display settings to basic. The display is also very bright and can be seen easily outdoors in bright sunlight without any issues and with just very little glare. Impressive isn't enough praise one can have about this display. I'll call it the best display on a mobile device.
Sound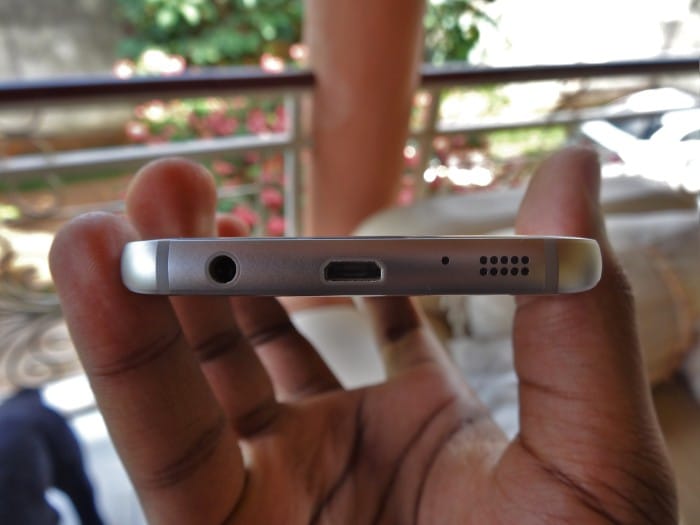 This is a total letdown and disappointment coming from the Nexus 6P. I'm mainly talking about sound from the speaker. It is one speaker, it isn't very loud even though just OK and acceptable but definitely not exceptional or great. The speaker can be covered easily and the sound will be completely shut off. Like I said a major downside to a great phone. Sound via the headphone jack is good. Far better than the speaker. Not as good as if it had a dedicated amp but more than good enough for most people to tell a difference. Samsung's earphones still remain the best OEM branded headphones I've listened to but don't use them anywhere else than the Galaxy S7.
Software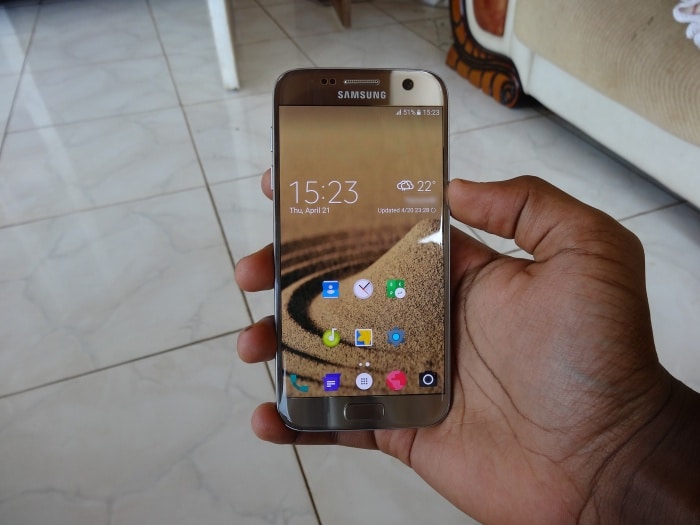 Touchwiz is here and this time it is awesome. Get this from a former Nexus 6P user and someone who has bashed it in the past after owning previous Galaxy products. If there was a slight dislike I had in this year's touchwiz which isn't present in stock Android I'll name it for that's how much I wanted touchwiz to be up to standards. Here on the S7 it is. The Exynos processor is more than able enough to handle anything and not run away with my battery(coming up later). I'll compare it once again to the Nexus 6P which was my previous phone. I raved how Google and Huawei tamed the Snapdragon 810 after a disastrous and horrific start in 2015. But there was an issue. Throttling. This wasn't so obvious but from time to time there would be some dropped frames in the UI and apps would take longer to animate before opening. To keep the S810 at rest Google and Huawei throttled which isn't good for performance. While the Nexus 6P's display was on the phone just ran away with battery life leaving me sometimes with almost vertical battery graphs. It had excellent doze though to compensate and being an XDA member I used a custom kernel and tweaks. Out of the box on the 6P I could on a normal day with no intensive stuff go beyond 6hours screen on time before the phone would die. Most of the time though it was between 5 and 6 hours. Many other people got between 3 to 5 hours. I just learned much on battery preservation from my HTC One X days. The S7 doesn't throttle. It speeds and the interface remains zippy. I'd say on par or better than the 6P. Certainly better at opening apps. Battery life is unaffected too. Touchwiz has a ton of useful features Google is only now catching on to with Android N in the fall. The biggest con to a skinned version of Android is non prompt software updates but I'm in no way bothered on the S7. It has almost everything and even more than Android N has to offer. Features like themes which you need root or custom recovery to have on stock Android. The ability to vibrate when you pick it up because you had a missed notification in your absence. Multi-windows and free floating window. I'm sure Google won't include free floating window on the 6P. This isn't a stock Android rant but I think Google can do more rather than trail OEMs. We didn't have to wait until 2016 to get clear all button in recent apps or mutli-window.
Battery life
This is a highlight about Samsung Galaxy S7. To my greatest surprise I didn't even need to own the Edge variant to get incredible battery life. I got 8 hours screen on time everyday doing what I do with every phone. Browsing social media like Google+, Twitter, Facebook(browser because we all know the app sucks), Emails, YouTube, taking pictures and videos, reading news and such. On other days usually over the course of two days doing the same stuff I got 7 hours plus. Over the course of one day with heavier use like GPS and other heavier apps I got 5 to 6 hours. What juju is this? Well I don't know but it is fantastic given that it has only a 3000mAh battery. Imagine what I could get if I had bought the Edge variant?
Camera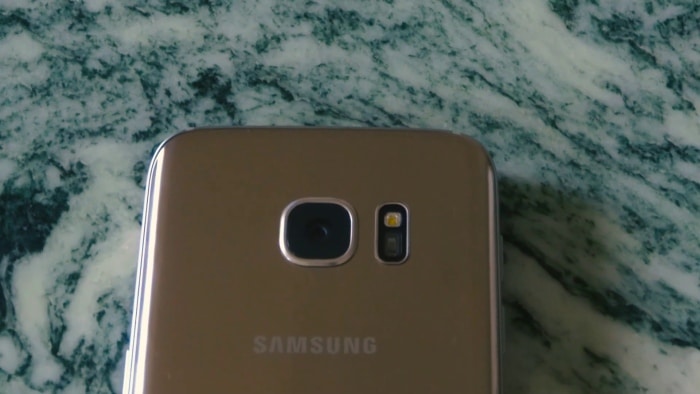 Cameras these days have become deal breakers. People now put it in a top 3 priority list for getting a smartphone and some even above battery life. How does the S7 do? Still it does a great job. The legacy of Samsung flagships having great camera carries on here. It is fair to say less resolution than last year at only 12 MP but the pixels are larger. The aperture too is wider at f1.7 as opposed to f1.9 last year. This means in lowlight pictures are better. This means in daylight pictures aren't all that 16 MP sharp but still plenty sharp for everything else you may want to do with them. Then there is the speed. The Galaxy S7 is to smartphones what The Flash is to DC. The app launches crazy fast by double tapping the home button at anytime from anywhere or any app. It focuses ridiculously fast. It is so quick to focus that it makes you ask yourself "did it focus?" and you notice it did already before you could blink. Focusing is literally that fast. Dual pixel autofocus magic. The camera is not 100% all good though. Pictures are sharp but there's that one occasional photo which comes out too sharp and unnatural almost making you wish post processing didn't sharpen this particular shot. Most of the time it is ok and even great. But once in a while you can get this sharpening disgust. I repeat that it is rare though. Videos are very well stabilized with great quality too. You're able to record in 4k, 1080P 30 and 60 fps, 720P, VGA, slowmo up to 240 fps. The front camera takes pictures at 5MP and can also record at almost its full sensor size meaning 2k or almost 5MP video which is great. You'll lose image stabilization though and you'll have to drop to 1080P to get that back. Photo gallery
Conclusion
I'll conclude with this. Iteration is not always bad and sometimes proves to be exactly what is needed. Before getting this device I wasn't pro Samsung in anyway. I knew their flaws and this year I'm left speechless like a hater who has nothing left to hate because it's all good now. I would have loved dual front facing speakers. But the phone is so waterproof that even a washing machine or coca cola couldn't kill it. There's nothing left for me to hate Samsung anymore.