Today, national restaurant pizza brand, Papa John's, announced that they feature their own ordering app for the Apple TV, 4th Generation (1st time ever for any restaurant). Within the app, customers can relax on the couch while creating and ordering pizzas (and sides) without having to pick up the phone or go over to their PC. All orders from the Papa John's Apple TV app will receive a special discount price of 25% on each order placed.
While in the app, customers will notice that the menus are chock full of various pizzas, side orders, beverages and desserts all to choose from. The pizza topping creator is very flexible, by letting you choose any specific toppings and whether you want them on the left side of the pie, right side or on top of the whole pie. As for checking out, it's easy and quick. You can sign up for a Papa John's account so that your info automatically gets automatically approved for purchase. Once you signup, all you have to do is submit your delivery address, payment information and you are set. You never have to worry about having to input that information again as long as you have your Papa Johns account. You can even save certain meals to your account so that you won't even have to pre-select them individually or re-customize them again.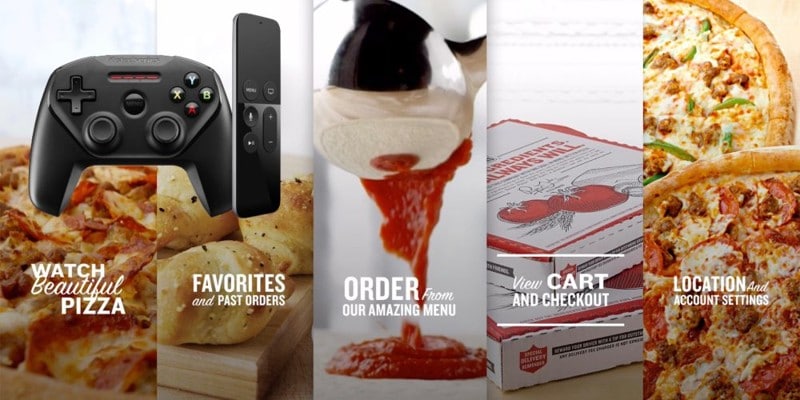 "PIZZA AND ENTERTAINMENT ARE A NATURAL FIT," "WITH THE LAUNCH OF OUR APPLE TV APP, WE'RE HOPING TO MAKE FAMILY MOVIE NIGHT AND FRIEND GATHERINGS AROUND THE TV EVEN MORE ENJOYABLE BY DELIVERING THE SAME QUALITY PRODUCT AND EXPERIENCE OUR CUSTOMERS EXPECT IN A CONVENIENT AND INTERACTIVE WAY."
'Papa John' Schnatter, Founder, Chairman & CEO of Papa John's Restaurant
The best thing about the Apple TV app for Papa John's is that once your account and your information are set up, you'll be ordering pizzas in no time, and never have to worry about taking too much time to make your selection and payment. If you have the Apple TV (4th Generation) then look out for the app to be available today in the App Store.