Yesterday, Microsoft revealed the new Surface Studio all-in-one PC and its event in NYC. The Microsoft Surface Studio is a beautiful, thin, minimal device that rivals the famed iMac by Apple. Microsoft states that the Surface Studio was created for content creators and professionals. With its simple, refreshed PC environment, users can get to work (or play) without clutter (even in limited spaces) or with limitations of mobility (more on that in a second).
The Microsoft Surface Studio boasts a 28-inch, 12.5mm super thin touchscreen that details nearly a whopping 6K PixelSense Display. The monitor easily appeals to graphic designers that are picky with their displays. Windows 10 is there of course but this time it's going to have the newest Creator's Update out of the box. The display is supported with a well designed "zero-gravity hinge" that allows you to adjust the display all the way down to a 20-degree angle.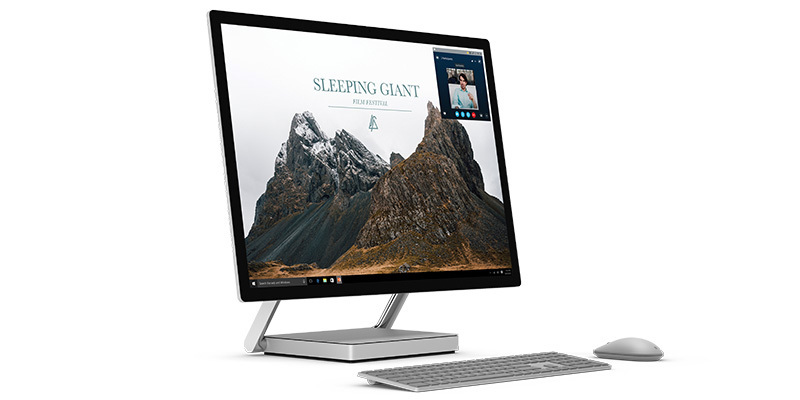 Depending on which Surface Studio model that you get, either setup will offer a high-powered Intel processor, plenty of RAM, TB(s) of space and an impressive GPU card.
A $3,000 package offers: 6th gen Intel Core i5 processor, 8GB of RAM, 1TB internal storage, and a 2GB GPU graphics card.
A $3,500 package offers: Intel Core i7 processor, 16GB of RAM, 1TB  internal storage, and a 2GB GPU graphics card.
A $4,200 package offers: Intel Core i7 processor, 32GB of RAM, 2TB hybrid internal storage, and a 4GB NVIDIA GeForce 980M graphics card.
Along with the all-in-one you'll find a wireless  keyboard and mouse as a companion to the touchscreen. Microsoft even threw in a Surface Pen in the box for those times when a finger isn't quite accurate or fine enough. If interested, Microsoft even has another accessory that is aimed at artists and content creators, called the Surface Dial. The wireless, aluminum dial allows you to control certain aspects of the Microsoft Surface Studio such as using gestures for functions that operate in Surface compatible apps. For those who like to sneak in a bit of gaming while working hard (or hardly working), Xbox One Wireless controllers have full protocol support on board. That is perfect for the onslaught of games that are arriving this quarter which the Xbox One (and Windows 10) supports.
The Microsoft Surface Studio will ship on December 15th (perfect for Christmas) but it is currently available for pre-order today at the Microsoft Store website.