The new HopperGO pocket DVR from Dish Network makes it easy to watch DVR content on the go, even without an internet connection. The small HopperGO is a lightweight, portable storage device that holds all of your Dish Network DVR recordings. It looks like a mini-Hopper with the Dish Network logo and red stripe that goes around it, but it runs its own local wireless network so you can stream to any nearby devices that can accept a wireless signal.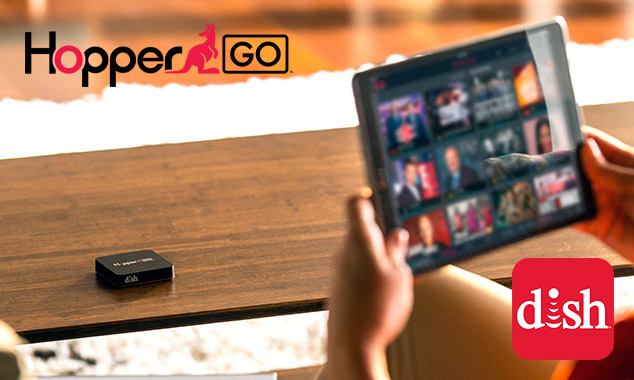 The HopperGO can easily store up to 100 hours of DVR recordings, so it's perfect for storing an entire series like The Walking Dead or Westworld. With the on-board battery inside, which lasts around four hours, you can take the HopperGO to a friend's house and binge watch together. If you need more juice, you can charge the device with a USB cable via battery pack or by plugging it directly into the wall.
Using the HopperGO as a streaming device, you can play your programs simultaneously on up to five separate mobile devices. It's not only efficient, but it saves storage space since the videos aren't stored physically on any of your devices. This feature makes the HopperGO the perfect companion for those who want to watch TV simultaneously from separate rooms in the house or for keeping kids entertained in the back seat of the car during a family road trip.
The best thing about the HopperGO is that it becomes particularly useful when there is no Wi-Fi signal or if your tablet or smartphones have limited storage space for holding TV shows. The HopperGO is the perfect choice for catching up on an episode during your lunch break (my favorite time to get an episode in is while getting my grub on) or if you are stuck in the doctor's office waiting room. For those who have children, you know how hard it is to enjoy TV time on the weekends, especially since the little ones take over the TV with cartoons and singalongs. With the HopperGO, you can sit with your kids and watch Game of Thrones on your mobile device (using headphones, of course) without having to disturb the kids' TV time. I highly recommend the HopperGO, because as a DISH subscriber you are freed from the living room when you want to watch TV; it allows you to enjoy your DVR recordings in your comfort zone, wherever that may be.
DISH is currently offering a FREE HopperGO device for any new customer who visits and calls from the promotion site, then signs up for any DISH package (and includes a DVR: Hopper 2 or Hopper 3) before Dec. 11th!
Don't forget you have to mention offer code "Free HopperGO" upon calling! This is only valid for new DISH subscriptions. Restrictions apply.
"This blog post is part of a paid Megan Media and DISH HopperGO blogging program. The opinions and ideas expressed here are my own."