Co-written by Adriana Espinosa
Do you travel often? If you do, you probably agree that it is not comfortable, and it's becoming less and less so.
Starting with the luggage capacity limitations, the long airport security lines, and topping it off with the ever growing trend of shrinking plane seats for aircraft optimization, the traveling experience has become a hassle.
We get through the airport process with honors and finally board the plane. Time to… relax?
If you are the non-sleeping type, then you shouldn't worry. Grab your book, put on your headphones and enjoy your (insert number here)-hour flight.  And even then, it's a good idea to have a neck support at hand for relaxing your neck muscles while reading. Just a thought.
But what if you are the sleeping type?  The professional travel-pillow-tester, with the solid testimony that travel pillows, in your experience, don't really work.
Well, don't give up hope.  There's a frequent traveler out there who knuckled down to finding a solution for himself and global travelers like him who suffer from spending hours in confined plane seats more often than not.
SleepX® is the solution to the discomfort when traveling and trying to get some sleep feels like science fiction.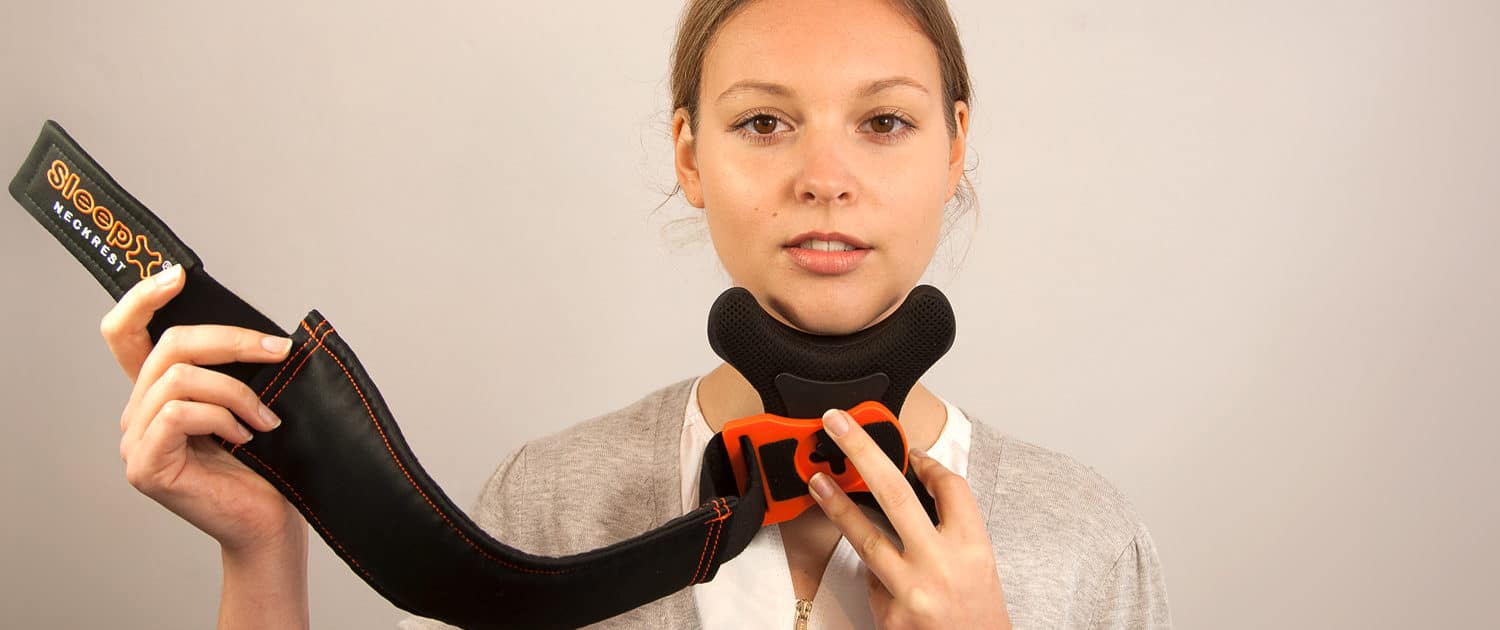 Let's have a look at the concept::
"The unique SleepX® neckrest consists of a soft and cozy pad which fits perfectly between your chest and your chin to provide comfort and stability for your head in upright positions. The comfortable and adjustable neckstrap keeps the pad safely in position.
Other available travel neckrests like rolls, cushions or supports are either not preventing your head from falling forward or are just too big and bulky to allow easy handling. The new concept of SleepX® perfectly combines function and handiness in a cool product – a must for every traveler seeking relaxation even in confined upright seating positions".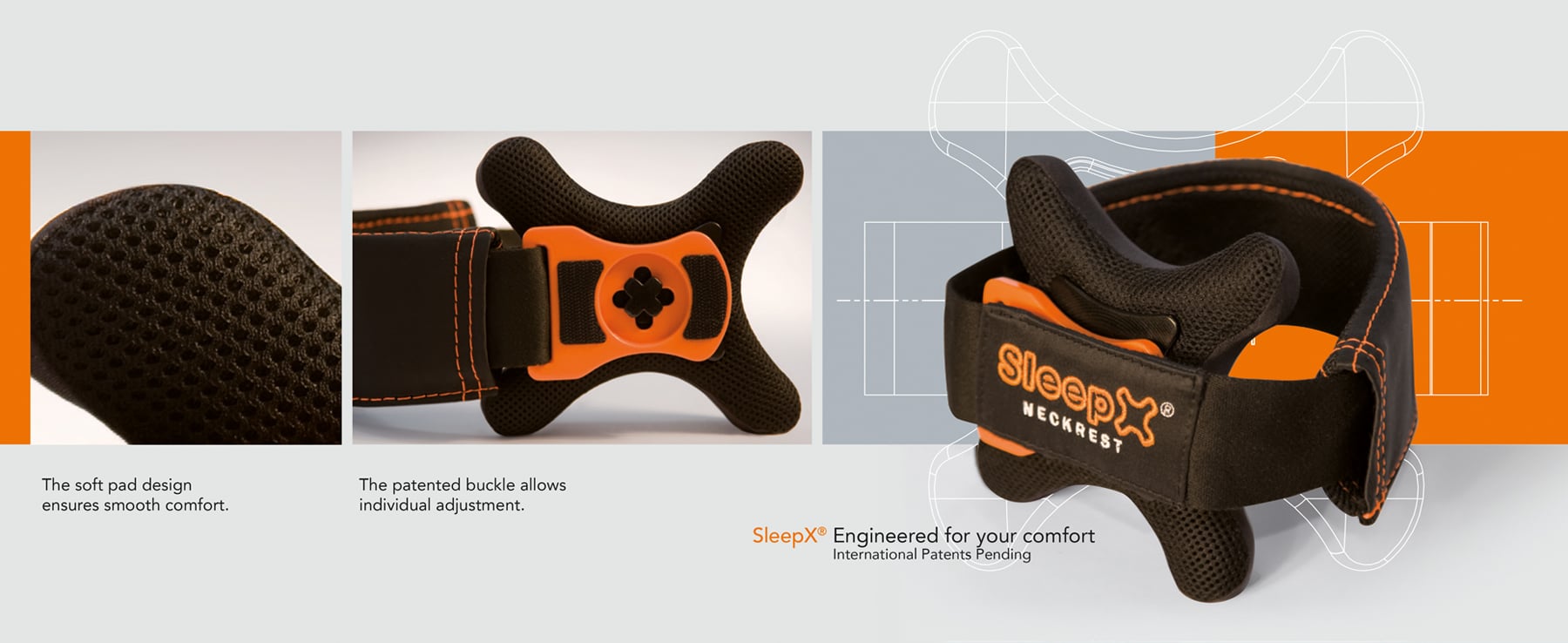 And now a word from the mind behind the SleepX, and what inspired him to develop such a cool concept:
"Being a traveling professional for decades I have always suffered from not being able to find comfort and rest during long haul flights. I have tried all kinds of travel devices like neck-rolls and cushions but nothing really helped me. Most of the devices even forced my head forward instead of keeping it in the desired stable position".
Anyone who travels often, for work or pleasure, will definitely agree. The existing products just don't cut it when you really want to relax on a plane, train, car.
"SleepX is a great idea. If you travel as much as I do, I am sure that it will be a good investment. I was skeptical at first but I thought, what the heck…I will never travel without it again!" Charles Wehrle, Sales Rep, Frequent traveler
The conventional devices don't consider the head falling forward during upright seating. Or gravity. They even press the head forward when laid on the neck. The creator of SleepX took this and, being an engineer, worked to improve both comfort and functionality, and the result is truly amazing!  A sleek, soft, comfortable, unconventional and totally cool looking, non-tech travel gadget.
"SleepX® features roundings which are not only pleasing to the eye but which are designed according to "form follows function". The soft foam body holds a stiffening core to provide the structural strength to keep the head safely in position. Orientation of the pad and height adjustment of the neckstrap allow adaptation of SleepX® to any neck and head shape.
SleepX® is a real engineered product!"
With SleepX the panorama seems brighter; we're looking at no more neck pain or falling over your neighbor's shoulder. Or is it your shoulder? If that's the case, be sure to recommend SleepX to your sleepy neighbor!
So kick-off those shoes (on second thought, you can leave your shoes on), be at your upright comfortable best, buckle up and wrap your SleepX around.  And here's a useful tip: rest back your head on the plane seat for some extra support.  You'll definitely enjoy your ride this time.
Want a SleepX?  You can get yours here: www.sleepxneckrest.com