Today, Google finally answered all the questions we had and revealed more details for Stadia, its pricing, and availability. Google's new game streaming service will launch in November, in 14 countries including the US, UK, and Canada. Stadia will launch with at least 31 games from 21 different publishers. Stadia will have a special Founder's Edition for $129.99 and $10 a month afterward, this package is currently available for pre-order. It will come with a Chromecast Ultra puck, limited-edition Night Blue controller, special founder Stadia username, and two three-month Stadia Pro subscriptions for you and a friend. Ordinarily, Google's Stadia will cost $9.99, this subscription services only grants you access to Google's library (only includes a single game as of today — Destiny 2. Primarily) at up to 4K resolution and 60 frames per second, with HDR and 5.1 surround sound. Until then, Google notes that Stadia gamers should expect to buy, not rent cloud games for the same retail prices you'd find on other platforms like PlayStation Network, Xbox Live, and Steam.
The first wave of games to launch with Stadia are: Dragon Ball Xenoverse 2, Doom Eternal, Doom (2016), Rage 2, The Elder Scrolls Online, Wolfenstein: Youngblood, Destiny 2, Get Packed, Grid, Metro Exodus, Thumper, Farming Simulator 19, Baldur's Gate 3, Power Rangers: Battle for the Grid, Football Manager, Samurai Shodown, Final Fantasy XV, Tomb Raider Definitive Edition, Rise of the Tomb Raider, Shadow of the Tomb Raider, NBA 2K, Borderlands 3, Gylt, Mortal Kombat 11, Darksiders Genesis, Assassin's Creed Odyssey, Just Dance, Tom Clancy's Ghost Recon Breakpoint, Tom Clancy's The Division 2, Trials Rising, and The Crew 2.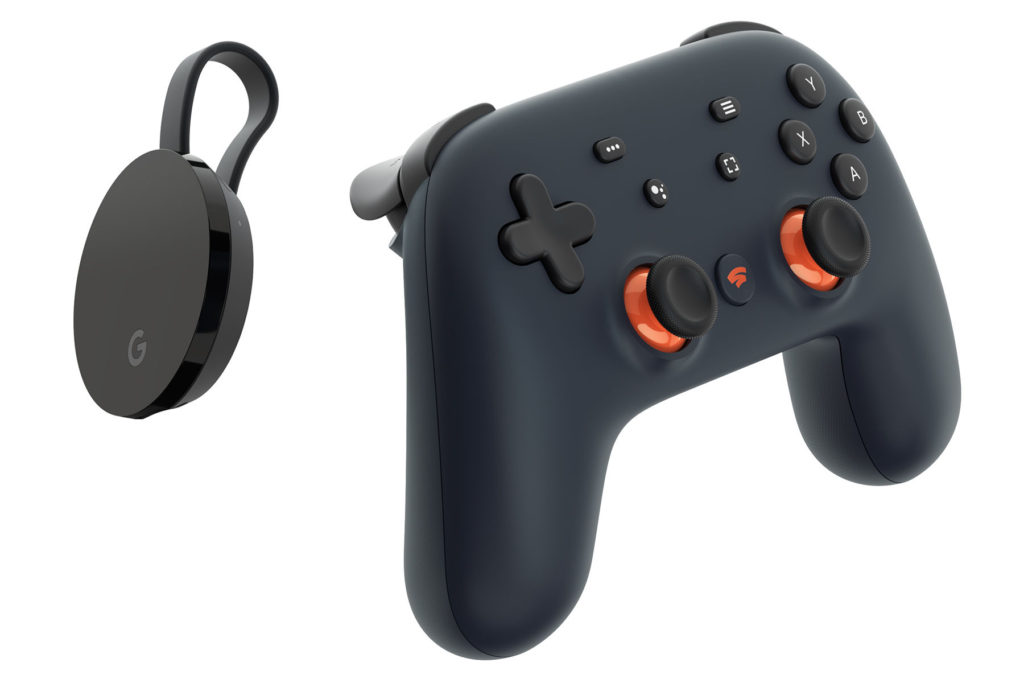 Pixel 3 or Pixel 3A phone owners or Chrome web browser users will be able to play the game streaming service with the HID controller of your choice. If you don't own any of Google recent devices mentioned above, you'll just have to wait till Google expands to the service to other phones and platform "over time". If you plan on playing in 4K, 60fps streaming with HDR and 5.1 surround sound, you should have at least have a 35Mbps of bandwidth internet connection. The free tier launching in 2020 is limited to 1080p60 with stereo sound and requires at least 10Mbps of bandwidth to stream at 720p.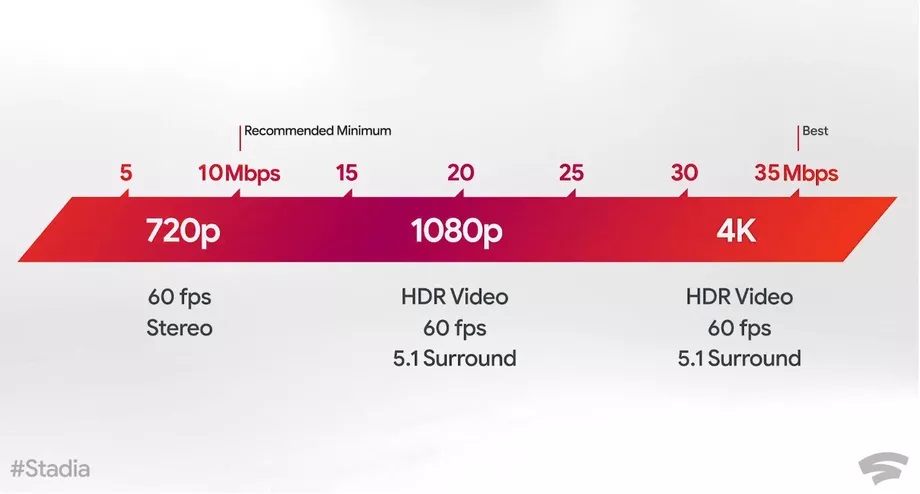 Stadia will be available in the following countries at launch: US, Canada, UK, Ireland, France, Germany, Italy, Spain, Netherlands, Belgium, Denmark, Sweden, Norway, and Finland.
GOOGLE STADIA LAUNCH REGIONS AND PRICING
| Territory | Founder's Edition | Stadia Pro (monthly) | Stadia Controller |
| --- | --- | --- | --- |
| US | $129.00 | $9.99 | $69.00 |
| Canada | $169.00 | $11.99 | $89.00 |
| UK | £119.00 | £8.99 | £59.00 |
| Ireland | €119.00 | €9.99 | €69.00 |
| France | €129.00 | €9.99 | €69.00 |
| Germany | €129.00 | €9.99 | €69.00 |
| Italy | €129.00 | €9.99 | €69.00 |
| Spain | €129.00 | €9.99 | €69.00 |
| Netherlands | €129.00 | €9.99 | €69.00 |
| Belgium | €129.00 | €9.99 | €69.00 |
| Finland | €129.00 | €9.99 | €69.00 |
| Denmark | DKK999 | DKK69 | DKK549 |
| Sweden | SEK1,399 | SEK99 | SEK749 |
| Norway | NOK1,299 | NOK99 | NOK699 |